Name: Scottsville's Bygone Days by Ruth Klippstein

Date: 1993

Image Number: RK12cdRK02

Comments: The Scottsville Museum, the structure built in 1846 as the Disciples of Christ Church, reopened for its 1993 season on March 28th, 1993. James Barclay's church had been transformed with a major community effort, led by Bob Walls, almost 25 years earlier. To commemorate the effort and celebrate the opening of a season, the Museum Board and Board member, Robert 'Bob' Spencer, convened a panel of Scottsville natives to reminisce about "Growing Up in Scottsville."

Bob quoted Dwight Eisenhower: "One of the best things that can happen to a person is to grow up in a small town…. It is a great and priceless privilege." Bob set the tone of the afternoon by saying, "Scottsville has had lots of stories written about it, and those of us who've lived our entire lives here know that the attitude 'time has stood still in Scottsville; the long-lost traditions and values we search for are still present here' is characteristic of the town."

There have been many changes, Spencer noted, something those born here know well, but Scottsville still "holds an ambience of bygone days." He invited panel members, who spanned almost seven decades of the town's life, to recall "the wonderful things of childhood." Bob opened by listing the things he missed: Dorrier's general store on the corner (the James River Tavern now), Bruce's ice cream and soda fountain (across West Main Street, now Balance yoga studio but when he spoke, a drug store without a soda fountain); the Traveler's Rest hotel (five stories, not a right angle in the structure, on the northern corner of Main along Valley Street) with Edith Taggert (the central telephone operator) sitting on the porch; the old Victory theatre; the two-room school (on Bird Street at Page, burned down in 1980 and now the site of the Scottsville branch library).

The first panel member Bob introduced was Jacqueline 'Jacqy' Beal Grove (1918-2001), Mayor Barry Grove's mother, who was then on the Town Council, her signature hat this time a brimmed red felt. Jacqy emphatically stated, "There couldn't possibly be any better place to grow up." She, like many on the panel, went to "the little school," the first and second grade building across Bird Street from the high school. In fact, she went an extra year, as she used to listen to the lessons while sitting on the front steps until one teacher, Ms. Hancock, told her she could come inside "if I didn't say a word." After two legitimate grades, she went to the high school building where "we had the best time in the world." She thrived on the large number of young people in town, the river, as well as the movies and stores; she remembered with warmth Charlie Lenaham sounding the noon whistle daily.



Shown in the photo at left is Emcee Bob Spencer and Haden Anderson (L to R).
In the photo at right are Jacqi Grove and Mayor A. Raymon Thacker.



Raymon Thacker (1909-2016), mayor at this time, recalled his 83 years, 81 of them spent in Scottsville. He spoke of his father coming to Scottsville to be a grain miller; of the cooper at the mill, who charmed the young Thacker by "making music with his hammers" on the barrel hoops; of Mr. Sutherland, the policeman, who lit the streets' gaslights nightly "with a little stick" and then "cut them off around midnight." Thacker recalled the town's dray services, the installation of the first plumbing, the first car--Dr. Stinson's red Maxwell "sputtering along the road like a lawn mower."

Thacker hinted at less positive stories--"I've seen the good and the bad occur"--but feels he's lived through many highlights. He and Bob Spencer talked about Victory Hall, with three different movies a week, sometimes all 360 seats filled and the pot-bellied stoves, the only heat, glowing bright red in the dark. Thacker touched on his political and fundraising efforts to get the levee and dam built, to which Jacqy commented, "Aren't you glad I came back to help you!" The Mayor responded, "You also give me a lot of trouble!"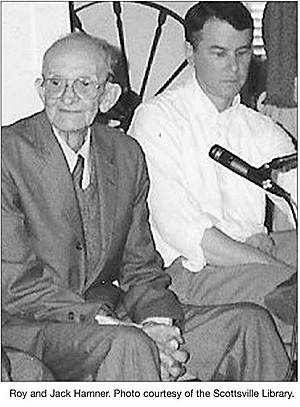 Roy Hamner (1909-1997) and his son, Jack Hamner, were next introduced. Roy said his family was characterized by its closeness; they hunted, fished, and played together. He told of his father's many pet animals, including parrots and monkeys. His father was one of the first car dealers in town--Plymouth-Chrysler--and Roy told of the three days it took to drive a new model from Richmond to Scottsville on the difficult roads. "Cars coming to Scottsville was a big deal." Jack Hamner went to school in Scottsville and became a teacher in Albemarle and, always interested in local history, an important member of the new Scottsville Museum.





Haden Anderson (1920-2012), Bob said in introduction, was associated with W.F. Paulett & Son; Haden's father, he remembered, was in the Scottsville Orchestra. Haden thought that being one of six children left him blissfully unsupervised as a boy. He swam in the James, built dams across the creeks, fished, and ran around as he pleased. There never was much money, but he did own a pair of clamp-on roller skates, which he held up to show the audience, and spoke of "skating on every street in Scottsville."

Haden recalled the names of "four colored businesses in Scottsville," saying he used the NAACP term by choice: there were two grocery stores, run by Leonard Lewis and Luther Lewis; a clean-and-press shop owned by Tom Pierce; and Charlie Terrell, the blacksmith. Audience members recalled a black butcher, too.

Haden appreciated going to a local school with local teachers, as well as the sense of everyone knowing and helping each other. He told with a grin of Bob Pitts' grocery store on Main Street, where whole fish were displayed out front for sale. One day, a man came in off the street and said to Mr. Pitts, "There's a cat sitting out there with one of your fish in its mouth." This didn't bother Pitts, who replied, "Yeah, he got one a while ago, too."


Bob Spencer next introduced three members of the Payne family: Amanda Payne Hall, Mildred, and their brother, James Bolling Payne. Amanda said that, like her cousin Jacqy, she went to the little school and has a "memory I'll never forget." Her second-grade teacher, Ms. Hancock, was pleased with Amanda's progress in reading, and arranged for her to read to the high school students at a daily assembly from her Baby Ray book. (These Elson Readers were popular in the teens and 1920s; the same author wrote the later Dick and Jane books.) "I went down, shaking in my boots," but the high schoolers listened respectfully ("Can you imagine that today?") and clapped for her. Afterwards, Ms. Hancock invited her home for tea, and while Amanda dreamed of elegant cakes and a fancy party, all she got was "milk and a bowl of rice. I was never so disappointed in my life!" Amanda also told a story from one of the many house parties in Scottsville--"this was a large part of our entertainment at the time."

Mildred told of the passenger trains stopping in town, and "everybody went to the depot." The mail was taken off and everyone trooped to the post office and visited while it was sorted. "That way we got to see everyone in town every night." She also told of her siblings often getting a dime each to attend the Scottsville movies. "One night we were missing a dime," so no one could go. But the kids remembered a dime that had dropped in the piano, so their "father took the keys off the piano so that we could all go to the movies!"

James Bolling Payne (1930-2007) said he got the job of making ice cream at the drug store. "The first time I made it, I forgot to stir it to mix in the air, so it froze but had no volume. The people who ate it said that was the best ice cream they ever had in Scottsville." He also would deliver groceries in his wagon from James River Market. One day, when a live chicken was loaded in from the coop kept out front, he lost the bird on the way. "Someone else got a fried chicken dinner that day!"

Mildred remembered always going home from school for lunch. Bob Spencer recalled the many after-school groups offered by "people who seemed to care for us" and the benefits that gave them. Millie then spoke of Bob starting his magic shows at the school, and she told of the Saturday morning theatre that Bob, Donald Coombs, Wilson Harrison, and Robert Taylor arranged in Bob's basement, entertaining any child who came from ten to noon.

Pat and his wife, Baxter Allison Pitts, were introduced by Bob as first-grade sweethearts. Pat said he felt as children they "literally knew the town high and low. There were few roofs we didn't climb or buildings we didn't play underneath." He told of an elaborate practical joke involving a wallet on a fishing line and boys hiding in the storm drain on Main Street, and another of boys with Roman candles on top of Victory Hall. That one ended poorly, at Dr. Moody's office up Valley Street." Pat commented, "Scottsville was pretty self-sufficient. If you couldn't get it in town, you didn't need it. I miss that."

Baxter reminisced about her swing set, snow-sledding down the hill from Belle Haven, roller-skating down the sidewalks to visit friends, getting ice cream cones to take home from Mr. Jones' drug store. "It was an easy way to grow up. Life in Scottsville is a few decades behind, I guess."

Scott Ward (1936-2014) recently returned to his namesake town, recalled his birth in the apartment above Agnes Beal's grocery store with Dr. Percy Harris and his father, "having a sip of good water," mixing up his middle name and the place of birth on the certificate. He says he didn't know his middle name was Scottsville until he joined the Air Force. Scott recalled playing football behind Bruce's Drug Store, kids at the Saturday movie matinee, and another rooftop escapade with Arthur Thacker and cherry bombs.

Tom Allison (1915-2000), spoke last, "The 'Fesser," Bob called him, teacher and principal, who "had a lot to do with childhood in Scottsville." There was banter about the big tree stump on legs in the principal's office, where "naughty boys" were paddled," and Allison said he knew stories no one wanted to hear again. Allison, a physical education and agriculture teacher, was assigned to teach aeronautics. "I was given the book--I didn't know one end of a plane from another. But we all learned." Bob recalled him teaching biology and chemistry in a classroom with one table, one microscope, one set of cabinets for supplies--including the frog they dissected and on which Allison demonstrated some basic principle by applying an electrode, alarming the students.

The afternoon ended with thanks to Museum President Don Hunt, hostess Mary Williams, and the many Board members, docents, and volunteers who brought the Museum into being and keep it running. Today those names are different, but the attitude of volunteering is not, nor is the pleasure of living small town life in Scottsville.



Looking north on Valley Street in Scottsville, showing the Victory Theatre with billboards of the current movie being shown ca. 1925. (Photographer: William Burgess).

Copyright © 2020 by Scottsville Museum

Top Image Located On: Capturing Our Heritage, CDRK02
RK12cdRK02.tif
RK12cdRK02.jpg
RK12cdRK02.psd

Second Image Located On: Capturing Our Heritage, CDRK02
RK13cdRK02.tif
RK13cdRK02.jpg
RK13cdRK02.psd

Third Image Located On: Capturing Our Heritage, CDRK02
RK14cdRK02.tif
RK14cdRK02.jpg
RK13cdRK02.psd

Fourth Image Located On: Capturing Our Heritage, CDRK02
RK15cdRK02.tif
RK15cdRK02.jpg
RK15cdRK02.psd

Fifth Image Located On: Capturing Our Heritage, CDRK02
RK16cdRK02.tif
RK16cdRK02.jpg
RK16cdRK02.psd

Sixth Image Located On: Capturing Our Heritage, CDB03
Roll3Neg20A.tif
Roll3Neg20A.jpg
Roll3Neg20A.psd