Name: Race Unity Day in Scottsville

Date: June 1997

Image Number: CWade001cdCWade01

Comments: This Sunday, June 12, 2022, is Race Unity Day, a special holiday in the calendar of the Baha'i Faith, a religion founded in the 19th century. The Baha'is believe in the oneness of humanity and devote themselves to the abolition of racial, class, gender, and religious prejudices.

Chris and Judy Wade came to Scottsville in 1974 as Homefront Pioneers of the Baha'i Faith. They were from California where the Faith was well established and so they transplanted themselves to Virginia to spread the word. In 1984, they began to celebrate Race Unity Day with an interfaith picnic in Scottsville, joined by local church members and the Southside Fellowship.

The picnic was a bountiful potluck supper with games, get-acquainted activities, a speaker, and some music. Good memories: a riotous baseball game behind the old Scottsville School, and Ruth Brooks playing the piano for us to sing, "Lift Every Voice and Sing: -- almost as difficult as the "Star Spangled Banner" but less military.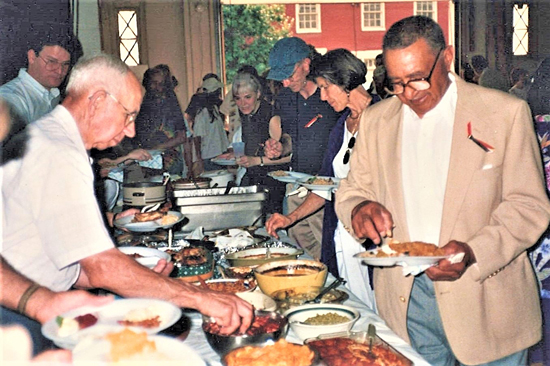 Inside, a potluck meal awaited, enhancing the programs of music and inspiring tales. Here, old friends Campbell Holt and Joe Agee of Southside Fellowship serve up their plates.


Southside Fellowship was organized in May 1983 and met monthly for many years for supper, rotating among area churches. The picnic was one of its projects as part of its overall goal of promoting fellowship among all members of our community. Bob Covert came every year with his University of Virginia class in multicultural education, and, for awhile ran a version of this for us. I recall some very enlightening conversations about our experiences of race and prejudice in Virginia. Eventually we aged out, as members got old, sick, and died. There is some thought of reviving the group if the younger generation is interested. Certainly we need all the unity we can get.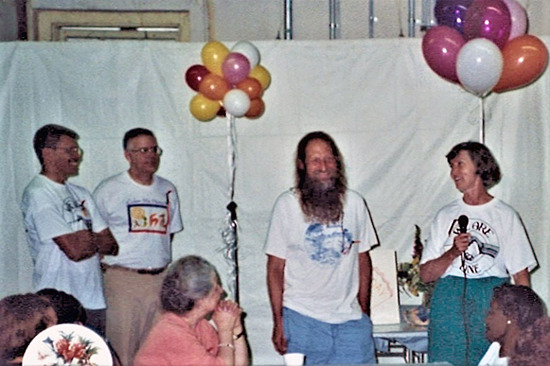 Evelyn Edson interviews Bob Covert, who brought his UVA classes of multicultural trainers to Southside Fellowship each February, as Graham Paige and Chris Wade look on; June 1997.
Evelyn Edson, President
Scottsville Museum
06 June 2022


Copyright © 2022 by Scottsville Museum

First Image Located On: Capturing Our Heritage, CDCWade01; Photo Courtesy of Christopher Wade.
CWade01cdCWade01.jpg

Second Image Located On: Capturing Our Heritage, CDCWade01; Photo Courtesy of Christopher Wade.
CWade02cdCWade01.jpg

Third Image Located On: Capturing Our Heritage, CDCWade01; Photo Courtesy of Christopher Wade.
CWade03cdCWade91.jpg