Name: Oak RidgeSchool

Date: 2018

Image Number: MJ30cdMJ02

Comments: The Oak Ridge School sits next to the Oak Ridge Baptist Church at 7734 Old Dominion Rd. in Schuyler, VA. Windows on the side of the schoolhouse face the church. Although the school appears in two 1930s-era Albemarle County school brochures, the names of tearchers were not listed. A brochure from the papers of former Albemarle County Superintendent of Schools, Dr. David Pinckney Powers, lists only the 1937-38 and 1938-39 salary for the 'Oak Ridge teacher' -- fifty dollars per month. In an interview for the University of Virginia's Race and Place project, James Jordan remembered that his mother, Rebecca Jordan, taught at Oak Ridge in the early 1900's. Mrs. Jordan also taught at the Mt. Alto School.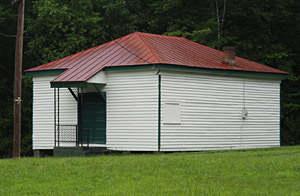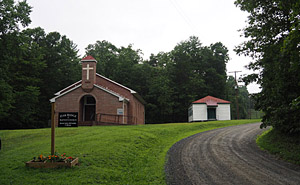 Scottsville Museum wishes to thank Maxwell Johnson for his research and photographs on this Esmont community school!
References:
1) David Pinckney Powers Papers, 1888-1938, Accession #9377-a, 9377-b, Special Collections, University of Virginia Library, Charlottesville, Va.
2) Hallock, Jennifer ; Gardiner Hallock & Kristie Baynard. National Register of Historic Places Inventory/Nomination: Southern Albemarle Rural Historic District. February 2007.
3) Samuel Baker Woods Papers, 1894-1937, Accession #4648-a, Special Collections Dept., University of Virginia Library, Charlottesville, Va.
4) Lawrence, Sarah R., and James Jordan. Interview of James Jordan on October 10 and October 30, 2001, by Sarah R. Lawrence of the Race and Place Project. (Oral History). Race and Place, Rector and Visitors of the University of Virginia., 2001.
Copyright © 2018 by Scottsville Museum

Top Image Located On: Capturing Our Heritage, CDMJ02
MJ30cdMJ02.tif
MJ30cdMJ02.jpg
MJ30cdMJ02.psd

Bottom Two Images (L to R) Located On: Capturing Our Heritage, CDMJ01 and CDMJ02
MJ33cdMJ02.tif
MJ33cdMJ02.jpg
MJ33cdMJ02.psd

MJ24cdMJ01.tif
MJ24cdMJ01.jpg
MJ24cdMJ01.psd