Name: Tros-Dale Home for Boys

Date: Built circa 1965

Image Number: UVA Library, Tros-Dale Home for Boys, ca. 1965
Comments: Peter T. Way had been a teacher and Dormitory Supervisor at the old Blue Ridge School near Charlottesville when it closed in 1961. Mr. Way took two of the boys, who had no place to go, and established the Tros-Dale Home for Boys in Keene to provide a supportive home for at-risk boys. Initially, the Tros-Dale Home was located about two miles south of Carter's Bridge on Route 20 on 23 acres of land owned by Mr. Way. In January 1962, the Tros-Dale Home was chartered as a non-profit corporation in the State of Virginia and was licensed by the Virginia State Department of Welfare and Institutions. By 1962, the Tros-Dale Home was hosting seven boys.

Mr. Way was the founder and Director of the Tros-Dale Home and immediately began fund-raising efforts to expand the Tros-Dale facilities to accommodate 15 boys. The first step in this direction was a gift of 15 acres of land near Plain Dealing in the Keene neighborhood by Mr. and Mrs. Daniel G. Van Clief of 'Old Woodville' in Esmont. Architectural drawings of the new Tros-Dale Home were made by Thomas K. Fitzpatrick, former Dean of the School of Architecture at the University of Virginia and included the above 1965 drawing of the new Tros-Dale Home. A fundraising drive by Director Way successfully raised a building fund of $60,000 in 1965. Construction of the new Tros-Dale Home was contracted by the firm of Massie and Boatwright of Scottsville, Virginia.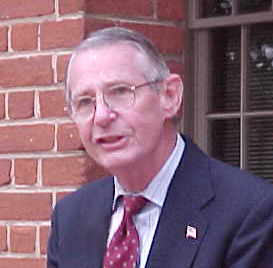 Peter T. Way, 1936-2018

Director Peter Way's goal was to secure resources to build a small, family-oriented home for boys rather than one of the large children's institutions that were then in existence by 1965. He succeeded in achieving these goals, and the new Tros-Dale Home for Boys was dedicated on October 23, 1966. At that time, there were twelve boys living at Tros-Dale, and they ranged in age from 9 to 18, with the average age being 13. All of the boys attended school in Scottsville. The Tros-Dale Home was supervised by a board of directors which in 1966 was comprised of: D. Farley Cox, Jr., President of the Board; Dean B.F.D. Runk, Vice President; Mrs. Larned Randolph, Secretary; and Carl E. Wasmuth, Jr., Treasurer. Members of the board included Mrs. Daniel G. Van Clief, Rev. John Elliott, Edward Van Lear, and Dr. J. Hamilton Allen.

The Tros-Dale School for Boys relied greatly on philanthropy for its funding and remained in existence until the early 1980's. Peter Way had a strong and lasting influence on the lives of many boys during his tenure as Director of the Trosdale Home for Boys. The Tros-Dale School for Boys was located at 652 Glendower Rd., Scottsville, VA. After the home closed, it eventually was repurposed by the Emmaus With Child organization.

This 1966 Tros-Dale Home building is located at 652 Glendower RD in Keene, VA. In 2018, this single-family residence is owned by the Pheasant House LLC, and the Albemarle County GISWEB property info for this structure lists it as being in poor condition in 2018.

Scottsville Museum wishes to thank Maxwell Johnson for his research and photographs on this Esmont community home!

References:
1) "Tros-Dale Home for Boys (Keene, Va.)". Miscellaneous Materials About Tros-Dale Home for Boys, Keene, Virginia, 1961.
2) "Obituary, The Reverend Peter T. Way," (The Daily Progress, Charlottesville, VA, October 9, 2018); see: https://www.dailyprogress.com/obituaries/way-the-reverend-peter-t/article_8ae219f7-51b1-5937-a374-8d298c081737.html
3) "Obituary, Former Del. Peter T. Way of Albemarle remembered as loyal friend and trusted adviser" by Bryan McKenzie, (The Richmond Times Dispatch, October 9, 2018); see: https://www.richmond.com/news/obituary/former-del-peter-t-way-of-albemarle-remembered-as-loyal/article_509989d6-1ec4-59a2-8d8d-6331674f5015.html .
4) http://gisweb.albemarle.org/gisweb/AdvancedSearch.aspx, Parcel ID: 12200-00-00-013A0.

Copyright © 2018 by Scottsville Museum

Top Image Located On: Library of Congress, LC-DIG-csas-04157