Name: Tallwood

Date: 1932

Image Number: Library of Congress, LC-DIG-csas-04313
Comments: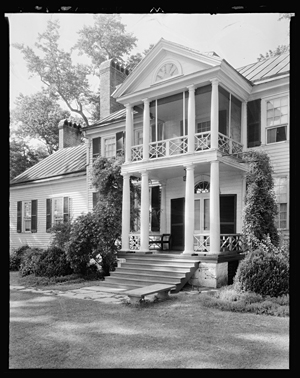 The Tallwood property, located on Green Mountain near Keene, was carved out of Enniscorthy by John Coles II in his will dated December 6, 1798, for his son, Tucker Coles (1782-1861). The Tallwood estate is one of three family estates carved from the original tract of land belonging to John Coles II (1745-1808) of Enniscorthy. The name "Tallwood" was probably suggested by the size and great height of the trees in and near the Tallwood yard. The account book of John Coles II mentions that he insured Tallwood against fire in 1805. The dwelling house at Tallwood was constructed between 1803-1804.

About 1810, Tucker Coles married Miss Helen Skipwith in Prestwould, Mecklenburg, Virginia. Later, Tucker Coles was representative of Albemarle County in the Virginia State Legislature and was a close friend of Jefferson and Monroe. The Coles added a second floor to Tallwood in 1820, and the wings were constructed circa 1826. By his will, dated July 21, 1854, Tucker Coles gave Tallwood to his wife, Helen Skipwith Coles. Per her will dated Dec. 17, 1861, Helen Coles left Tallwood to Peyton Skipwith Coles (b. September 27, 1853).

Tallwood stayed in the Coles family until 1897 when Peyton Skipwith Coles sold the property to William D. Waters of St. Louis, Missouri. According to the National Register of Historic Places nomination form for southern Albemarle County, the ornate stone art nouveau gates leading into Tallwood were constructed by the Italian artist, named Olinto Ceccarelli, in 1903. Tallwood is located at 6434 Green Mountain Road, Keene, VA.

Peyton Skipwith Coles reserved about 184 acres on the north side of Tallwood next to the Enniscorthy estate running from Green Mountain Road almost to Sand Ridge Road. In 1903-1904, Peyton Skipwith Coles erected a new dwelling house on this acreage with necessary out-buildings and farm buildings, and Coles called his new home 'Coleswood.'

The Van Clief family has owned the Tallwood property since at least 1996, and the Tallwood home was remodeled in 2013. In 2018, the Tallwood property contains 447.85 acres.

Scottsville Museum wishes to thank Maxwell Johnson for his research and photographs on this Esmont community home!

References:
1) Johnston, Frances Benjamin, Tallwood photo, LC-DIG-csas-04313; Call Number: LC-J7-VA- 1322 [P&P]. See: http://www.loc.gov/pictures/item/2017890068/ .
2) Johnston, Frances Benjamin, Tallwood photo, LC-DIG-csas-04312; Call Number: LC-J7-VA- 1321 [P&P] . See: http://www.loc.gov/pictures/item/2017890067/ .
3) Library of Congress, Tallwood, Green Mountain Road, Keene, Albemarle County, Va; Call Number: HABS VA,2-CARB.V,3- . See: https://www.loc.gov/item/va1462/ .
4) Chauvenet, Allen. "Russ Chauvenet (1920-2003)." (Obituary) The United States Chess Federation, 2003. See: http://www.uschess.org/obituaries/chauvenet.php .
5) Birch, Dinah, et al. The Oxford Companion to English Literature. 7th ed. Oxford University, 2009.
6) Hallock, Jennifer; Gardiner Hallock & Kristie Baynard. National Register of Historic Places Inventory/Nomination: Southern Albemarle Rural Historic District. February 2007; Section 7, p. 135.
7) Coles, William B. "The Coles Family of Virginia." (New York: Gateway Press, Inc., 1931; pp. 684-692 and pp. 693-694).
8) http://gisweb.albemarle.org/gisweb/AdvancedSearch.aspx, Tallwood Farm, Parcel ID: 12000-00-00-016C0.
Copyright © 2018 by Scottsville Museum

Image Located On: Library of Congress, LC-DIG-csas-04313

Image At Right Located On: Library of Congress, LC-DIG-csas-04312