Name: Enniscorthy

Date: 1932

Image Number: Library of Congress, LC_DIG_csas_04142

Comments: The Coles family arrived in Albemarle County between 1730 and 1747. John Coles I (1705-1747), the immigrant, purchased the 3000 acres in the Enniscorthy tract on Green Mountain Road from the Eppes family, and John planned to use it as a hunting retreat, but prior to his death in 1747, John established a permanent residence, known as Enniscorthy, on this tract of land. Coles named this estate for his hometown of Enniscorthy in County Wexford, Ireland. When John Coles I passed away in 1747, Enniscorthy passed to his son, John Coles II (1745-1808). With additions of land purchased by John Coles I before his death, the Enniscorthy tract totalled 4960 acres in 1747.

John Coles II, married Rebecca Tucker in 1769, and the couple had five sons all born at Enniscorthy. Two of these sons were Isaac and Edward, both were born at Enniscorthy. In 1769, John Coles II was appointed overseer or surveyor of roads from Green Mountain Road to the Hardware River. According to John Hammond Moore, Coles was also elected to a safety committee during the American Revolution. The safety committee was assigned to enforce resolutions, handed down by the First Continental Congress, to restrict trade with England in the area.

For nearly fifty years, John Coles II conducted various business with Thomas Jefferson, including the purchase of nails from the Monticello nailery. Jefferson represented Coles in a family suit in 1770-1771 and again in 1774. In 1781, during the American Revolution, Coles gave refuge to Jefferson and his family when Lieutenant Colonel Banastre Tarleton sent a detachment of dragoons to capture Jefferson at Monticello.

In 1789, a plantation house was built at Enniscorthy, which was totally destroyed by fire in 1839. The Enniscorthy home shown in this photo above was built circa 1850 by Julianna Coles, widow of Isaac A. Coles (d. 1841). In his will, Isaac Coles devised Enniscorthy to his son, John Stricker Coles, subject to the life estate of his widow, Julianna Coles. Julianna Coles rebuilt the Enniscorthy house in 1850 and did give possession of the place to her son, John Stricker Coles, during her lifetime. Before removing to South Carolina to live, John Stricker Coles sold and conveyed Enniscorthy to his cousin, Tucker Skipwith Coles, in the year 1855.

In 1994, Enniscorthy was remodeled and is currently in excellent condition. In 2013, Peter and Joyce Bertone purchased Enniscorthy and remain owners of this property in 2018. Following are four photos of the Enniscorthy home that are dated about 2015: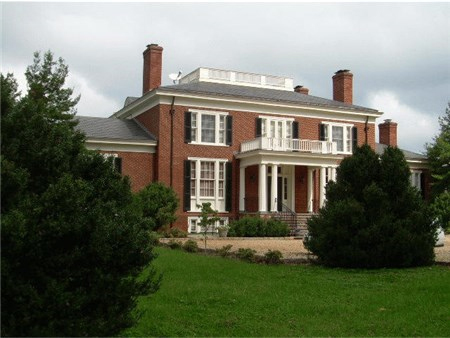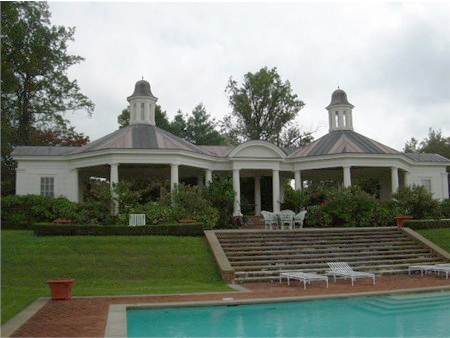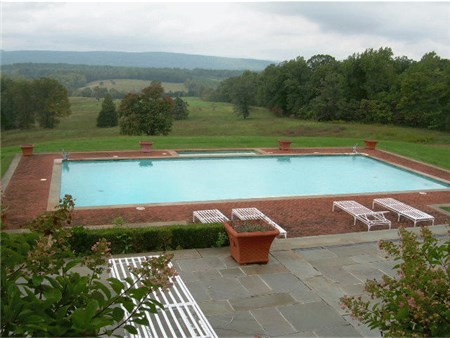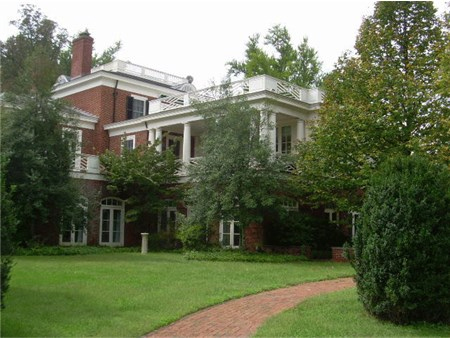 Following is an 1957 article from Scottsville Sun which describes how Enniscorthy evolved from 6500 acres of unspoiled Albemarle County woodlands:






Enniscorthy Once Jefferson's Refuge:
Ancient Albemarle House "Grew Out of Wildwood";
Green Mountain Land Granted 204 Years Ago

by Percy Brown, Scottsville Sun, 1957


Two hundred and four years ago, King George II of England signed his name by proxy to a grant of land in Albemarle County in the colony of Virginia, and 6,500 acres thereby became the property of Francis Eppes.

Seventeen years later, hard pressed for cash and realizing his opportunities, Francis Eppes II, grandson of the original grantee, exchanged his 6,500 acres of unspoiled woodland to John Coles of Richmond for a certain sum of money. Coles, a sport-loving aristocrat, built a small log cabin the better to shelter his weary limbs after a frosty hunt and to it he brought the leaders of the colony that they might share with him the kills of fox, quail, bear, and lesser game.

Feeling the need of a sturdier retreat, he called in an architect, and together they drew up plans for a dwelling to spread beneath the forest trees and thus it was that Enniscorthy, later to harbor the fleeing Jefferson, grew out of the wildwood.

New Year's night 1839 came and went with the usual gayety but little did the inhabitants of Enniscorthy realize that before the year had passed their magnificent home would lie in ashes burned by a devastating fire that once under way knew no stopping. Julia, widow of Isaac Coles and granddaughter by marriage to John, knowing and loving the original site of the old home, accumulated her funds and by 1850 she was ready to rebuild the old Enniscorthy into the residence it is today. For 26 years, widow Julia lived in her new home planting and planning for future generations that they might enjoy the pleasant gardens, the shade of the mighty trees, and memories of those who had gone before them.

Death came for Julia, and Enniscorthy mourned. Strickler, son of Julia, heart-broken by his loss and unable to bear with the many associations Enniscorthy brought to mind, sold the place to his collateral relative, Tucker Skipworth Coles.

Coles, who was not long for this world and Enniscorthy, traded these worldly goods for the Heavenly mantel, and once more the old place harbored a new generation in the person of Lelia Coles Bennet.

Lelia Bennet died in 1926, the 173rd year of Enniscorthy, and it became the property of Mr. and Mrs. Albert Morrill of Cincinnati, Ohio. Enniscorthy, suffering at first from restorations of the Morrill's, soon became acclimated to its new tenant when she realized that, although Coles blood no longer coursed the veins of the family, the blood that did was blue and the spirit of colonial Virginia lives on at Enniscorthy.

Mrs. Morrill, daughter of Kate Logan and her biographer, is an authoress of note. She is a contributor to the better-known magazines and the Southern editor of Home and Garden Review, a garden magazine published in Chicago.

Enniscorthy is located in what is known as the Green Mountain district of Albemarle, and overlooks the most beautiful part of the Piedmont Valley. The house of Albemarle clay brick is backed by a cottage now used as a lodge for guests. The lawn is best seen in the late evening when the lace work of shadows is tinged with the pink of sunset and the mystery of night is beginning to fall.

The spacious gardens, long neglected, are finding themself under the constant care of Mrs. Morrill, and a serpentine wall of recent construction hides the modernness of a State road. Far off to the right, the Blue Ridge mountains follow themselves into the haze of purple, and as a breeze springs up, the tall trees sigh as if trying to impart to us the history of yesterday that has come and gone and is lost forever from our prying selves who seek to unravel for the present the secrets of the past.






Conservation Easement Granted for Enniscorthy:
Daily Progress, Charlottesville, VA, December 9, 2013


More than 500 acres of Enniscorthy, a historic property in southern Albemarle County, have been placed in a conservation easement, the Piedmont Environmental Council announced Monday.

The Charlottesville-based conservation group accepted the 520-acre section of property Nov. 22. It features rolling farmland and includes about two miles of stream frontage on tributaries of the Hardware River.

Enniscorthy is significant in both natural beauty and history, said Rex Linville, the environmental council's land conservation officer for Albemarle and Greene counties. "This is one of the early places of settlement in Albemarle County," Linville said. "When you drive down there...it really is one of the special places in Albemarle County with large intact farms around it. The views to the west where the house sits are spectacular."

Built in the 1740s by the Coles family, Enniscorthy served as a brief refuge for Thomas Jefferson when he fled Monticello during the Revolutionary War era, according to a research document on Monticello's website.

When Jefferson later became president, Isaac Coles served as his private secretary. Coles' younger brother, Edward, served in the same role for President James Madison and later became Governor of Illinois.

Peter and Joyce Bertone purchased the property in April, according to public records. Peter Bertone, who grew up in Albemarle, said he appreciates the natural beauty of the region.

"I enjoyed the outdoors while growing up in this area, and that experience has strengthened my belief that rural properties need to be protected. Once those properties are subdivided and developed, you can't go back," Bertone said in the announcement.

Linville and Bertone, who could not be reached for further comment Monday, acknowledged the financial benefits of conservation easements. In Virginia, properties placed under easement are eligible for both federal income tax deductions and state income tax credits, Linville said. In most cases, including this one, easements are driven by appreciation and respect for open spaces rather than just financial benefit, Linville said.

"The reality is that the financial incentives are good, but if the landowner doesn't have some conservation interest to begin with, the financial incentives are not going to be enough," Linville said.




Scottsville Museum wishes to thank Maxwell Johnson for his research and photographs on this Esmont community home!

References:
1) "A Guide to the Enniscorthy Collection, 1926-1970." Virginia Heritage, By the Rector and Visitors of the University of Virginia, 2001.
2) Evans, Douglas. "Thomas Jefferson's Monticello," Thomas Jefferson Encyclopedia, Thomas Jefferson Foundation, Inc., 1995.
3) Hallock, Jennifer; Gardiner Hallock & Kristie Baynard. National Register of Historic Places Inventory/Nomination: Southern Albemarle Rural Historic District. February 2007; Section 8, p. 406.
4) The Jefferson Monticello, "John Coles, II"; See: https://www.monticello.org/site/research=and-collections/john-coles-ii .
5) Moore, John Hammond, "Albemarle, Jefferson's County, 1727-1976." (Charlottesville: University Press of Virginia, 1976), p. 48.
6) Johnston, Frances Benjamin (1864-1952). "Enniscorthy, Green Mountain, Albemarle County, Virginia." Carnegie Survey of the Architecture of the South, Library of Congress, 1932. LC-DIG-csas-04142 (digital file from original negative), Call Number: LC-J7-VA- 1153 [P&P]. Date of photo: 1932
7) Papers Relating to Nydrie and Algoma, consisting chiefly of photographs and articles pertaining to the family homes of the Logan and Forsyth families. Included is a scrapbook of articles by Lily Logan Morrill. University of Virginia Library.
8) Coles, William B. "The Coles Family of Virginia." (New York: Gateway Press, Inc., 1931; pp. 642-647).
9) http://gisweb.albemarle.org/gisweb/AdvancedSearch.aspx, Enniscorthy, Parcel ID: 12100-00-00-001A0

Copyright © 2018 by Scottsville Museum

Top Image Located On: Library of Congress, LC_DIG_csas_04140

Bottom Four Images Located On: http://gisweb.albemarle.org/gisweb/AdvancedSearch.aspx, Enniscorthy, Parcel ID: 12100-00-00-001A0 .