Name: Sharon Baptist Church

Date: 2018

Image Number: MJ16cdMJ01
Comments: Sharon Baptist Church was founded in 1852 by Mr. and Mrs. John Nicholas; William Hunter; Mary Thomas; Ira Wheeler and his son, John Wheeler. The church was built in a Greek revival style, and a small fenced-in cemetery is located right behind the church building. Sharon Baptist Church is located at 8410 Chestnut Grove Road in Esmont, VA.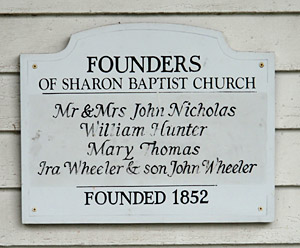 Scottsville Museum wishes to thank Maxwell Johnson for his research and photographs on this Esmont community church!

References:
Hallock, Jennifer ; Gardiner Hallock & Kristie Baynard. National Register of Historic Places Inventory/Nomination: Southern Albemarle Rural Historic District. February 2007.
Copyright © 2018 by Scottsville Museum

Top Image Located On: Capturing Our Heritage, CDMJ01
MJ16cdMJ01.tif
MJ16cdMJ01.jpg
MJ16cdMJ01.psd

Bottom Two Images Located On: Capturing Our Heritage, CDMJ01
MJ17cdMJ01.tif
MJ17cdMJ01.jpg
MJ17cdMJ01.psd

MJ18cdMJ01.tif
MJ18cdMJ01.jpg
MJ18cdMJ01.psd