Name: Sand Road Baptist Church

Date: 2018

Image Number: MJ14cdMJ01
Comments: The Sand Road Baptist Church was created for an African American congregation in 1883. This church is located at 5393 Secretary's Sand Road, Esmont, VA. A small, circa 1930 school house for African Americans, named the Sand Road School, was once housed next to the church at 5407 Secretary's Sand Road. This small school was demolished in the early 2000's.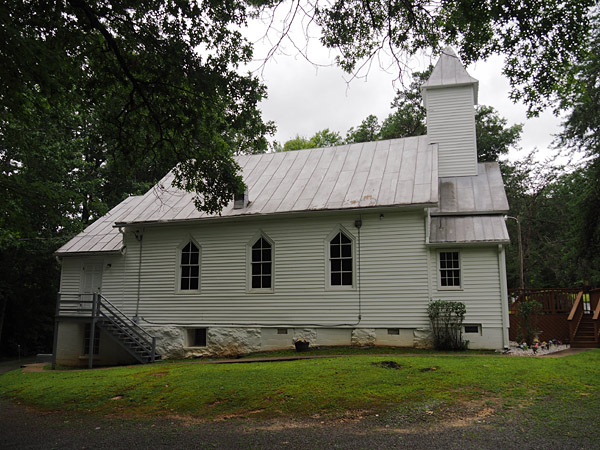 In 2018, the pastor of Sand Road Baptist Church is Rev. Benjamin Franklin Paige, Jr. This church also has a cemetery, the Sand Road Baptist Cemetery, located at 2963 Alberene Church Lane in Esmont; this road also leads to the much larger Alberene Cemetery at 3061 Alberene Church Lane, Esmont.

Scottsville Museum wishes to thank Maxwell Johnson for his research and photographs on this Esmont community church!

References:
1) Hallock, Jennifer ; Gardiner Hallock & Kristie Baynard. National Register of Historic Places Inventory/Nomination: Southern Albemarle Rural Historic District. February 2007.
2) Lay, K. Edward, Sand Road Baptist Church, Collection: Architecture of Jefferson County. https://search.lib.virginia.edu/catalog/uva-lib:84491
Copyright © 2018 by Scottsville Museum

Top Image Located On: Capturing Our Heritage, CDMJ01
MJ14cdMJ01.tif
MJ14cdMJ01.jpg
MJ14cdMJ01.psd

Bottom Image Located On: Capturing Our Heritage, CDMJ01
MJ15cdMJ01.tif
MJ15cdMJ01.jpg
MJ15cdMJ01.psd