Name: New Hope Baptist Church

Date: 2018

Image Number: MJ20cdMJ01

Comments: New Hope Baptist Church is an African-American church organized in 1875 and located at 7725 Porters Rd. in Esmont Virginia. The church's first pastor was Elder Joseph Cary according to the church's cornerstone.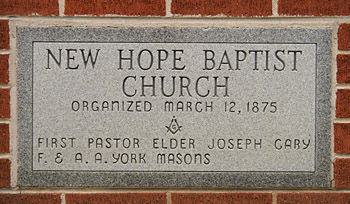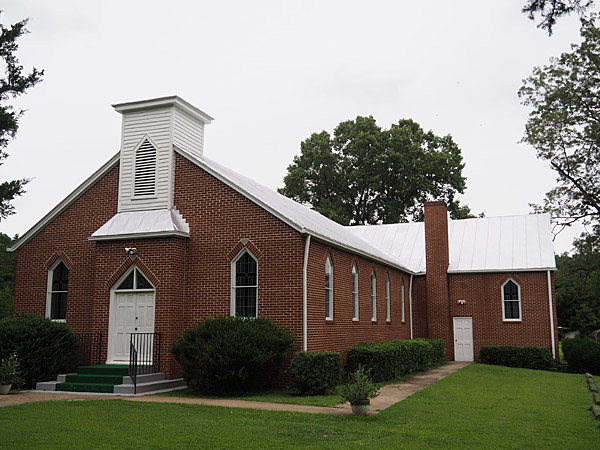 The New Hope Baptist Church property also contains its cemetery consisting of over 153 gravestones. This church cemetery borders the cemetery of New Green Mountain Baptist Church, though New Green Mountain's church building is now located two miles north of its cemetery.

Scottsville Museum wishes to thank Maxwell Johnson for his research and photographs on this Esmont community church!

References:
1) "New Hope Baptist Church Cemtery, Esmont, VA," Scottsville Museum, 2017. See:
https://scottsvillemuseum.com/cemeteries/newhopebaptist/home.html .
2) Papers of the Yancey Family, Special Collections, University of Virginia Library, Charlottesville, VA, 1899.


Copyright © 2018 by Scottsville Museum

Top Image Located On: Capturing Our Heritage, CDMJ01
MJ20cdMJ01.tif
MJ20cdMJ01.jpg
MJ20cdMJ01.psd

Middle Image Located On: Capturing Our Heritage, CDMJ01
MJ21cdMJ01.tif
MJ21cdMJ01.jpg
MJ21cdMJ01.psd

Bottom Image Located On: Capturing Our Heritage, CDMJ01
MJ22cdMJ01.tif
MJ22cdMJ01.jpg
MJ22cdMJ01.psd