Name: Mount Pleasant Baptist Church

Date: 2018

Image Number: MJ08cdMJ01

Comments: Mt. Pleasant Baptist Church was founded in 1867. According to Benjamin F. Yancey's diary, in 1911 Rev. Willie Morris was the minister serving Mt. Pleasant Church, and in the 1930's, Rev. Ward served as its minister. This Mt. Pleasant Church building sat near the end of Fortune Lane, an area marked on some maps as "Browntown."

In 1963, a new Mt. Pleasant Baptist Church building was constructed at 6456 Esmont Road near the intersection of Esmont Road and Fortune Lane in Keene. Today Albemarle County's Office of Geographic Data Services labels the former church property as a cemetery lot. No building stands there on the original property at the end of Fortune Lane, but rumor has it that the old church steps remain.

In a 2004 oral history interview at Scottsville Museum, the Agee sisters, Anna Agee Nelson and Virginia Agee Gray, recalled Mt. Pleasant Baptist Church serving briefly as a school in the 1930s while their local school, Glendower, was torn down and a new school building constructed. Anna and Virginia's father, Joseph Jasper Agee, also preached at Mt. Pleasant Baptist Church.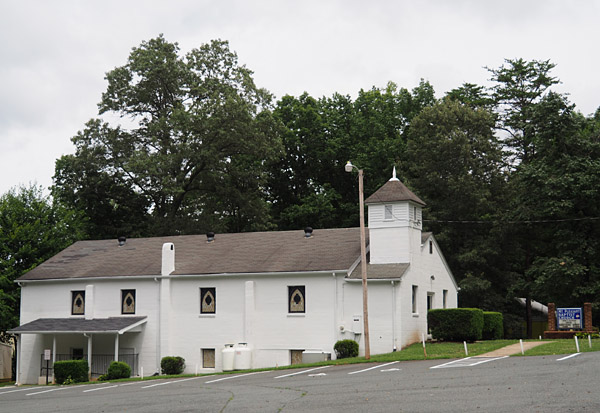 The cemetery at the current Mt. Pleasant Baptist Church location contains headstones from before the current church structure was built, i.e., from the late 1800s, as well as slate markers with no discernaible names and also modern day headstones.

Scottsville Museum wishes to thank Maxwell Johnson for his research and photographs on this Esmont community church!

References:
1) Hallock, Jennifer ; Gardiner Hallock & Kristie Baynard. National Register of Historic Places Inventory/Nomination: Southern Albemarle Rural Historic District. February 2007.
2) Kane, Emily, et al. Interview of Anna Agee Nelson and Virginia Agee Gray. Scottsville Museum, Scottsville, VA, 14 July 2004.
3) "Summary Information." Property Information for Parcel ID 12100-00-00-06700. County of Albemarle, Virginia.
Copyright © 2018 by Scottsville Museum

Top Image Located On: Capturing Our Heritage, CDMJ01
MJ08cdMJ01.tif
MJ08cdMJ01.jpg
MJ08cdMJ01.psd

Bottom Image Located On: Capturing Our Heritage, CDMJ01
MJ09cdMJ01.tif
MJ09cdMJ01.jpg
MJ09cdMJ01.psd