Name: Mount Alto Baptist Church

Date: 2018

Image Number: MJ04cdMJ01

Comments: In 1882 and under the leadership of H. Allen, Mt. Alto Baptist Church was built on a ridge overlooking Mt. Alto Road. Its cornerstone (see below) suggests the church underwent expansion or reconstruction in 1956 under the leadership of D.W. Allen.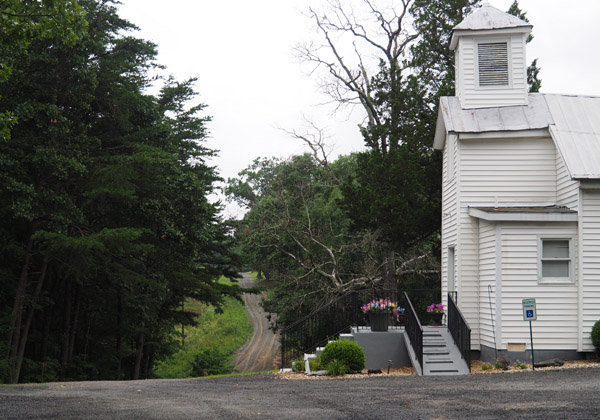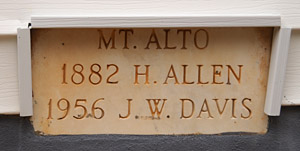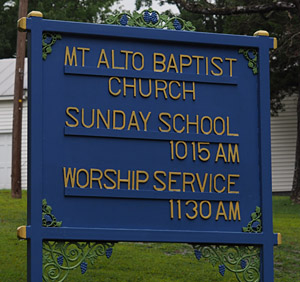 The Mt. Alto Baptist Church property is located at 4330 Mt. Alto Rd. in Esmont, VA, and it also contains a small Nearby at 4223 Mt. Alto Road sits an old schoolhouse called Mt. Alto School. According to the authors of a National Register for Historic Places nomination form, the first Mt. Alto School "was built in 1890 for $700" and 19 students attended it. The current Mt Alto School building dates to "around 1920," and is in a different location than the first school building by that name.

Scottsville Museum wishes to thank Maxwell Johnson for his research and photographs on this Esmont community church!

References:
Hallock, Jennifer ; Gardiner Hallock & Kristie Baynard. National Register of Historic Places Inventory/Nomination: Southern Albemarle Rural Historic District. February 2007.

Copyright © 2018 by Scottsville Museum

Top Image Located On: Capturing Our Heritage, CDB18
MJ04cdMJ01.tif
MJ04cdMJ01.jpg
MJ04cdMJ01.psd

Middle Image Located On: Capturing Our Heritage, CDMJ01
MJ05cdMJ01.tif
MJ05cdMJ01.jpg
MJ05cdMJ01.psd

Bottom Images Located On: Capturing Our Heritage, CDMJ01
MJ07cdMJ01.tif
MJ07cdMJ01.jpg
MJ07cdMJ01.psd

MJ06cdMJ01.tif
MJ06cdMJ01.jpg
MJ06cdMJ01.psd