Name: Chestnut Grove Baptist Church

Date: 2018

Image Number: MJ01cdMJ01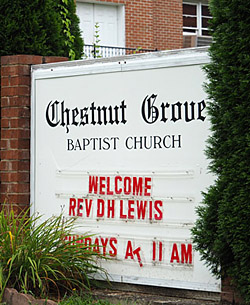 Comments: Chestnut Grove Baptist Church was formed in 1868. According to its cornerstone, the church's building structure was first bult as a log church by Pastor Fox and his congregation, and the church was rebuilt in 1906 and again in 1965 as it evolved to this large brick structure. Chestnut Grove Baptist Church is located at 8825 Chestnut Grove Road in Esmont, VA, and as of 2018, its current pastor is Rev. D.H. Lewis.

The authors of Perseverance: An Historical Journey, a 2017 commemorative history of Chestnut Grove, wrote that Pastor Fox and others built a 'log church on a plot of land surrounded by a grove of chestnut trees. This is the Mother Church of the Esmont community.' Chestnut Grove Baptist Church also once hosted a school, and this church continues to act as a place for the community to gather.

A church cemetery extends from a grassy yard into woods behind the church. The part of the cemetery that lies just behind the tree line appears to be the oldest, with many worn grave markers, some of which are marked by large rocks or rough cut pieces of slate.



Scottsville Museum wishes to thank Maxwell Johnson for his research and photographs on this Esmont community church!
References:
1) Hallock, Jennifer ; Gardiner Hallock & Kristie Baynard. National Register of Historic Places Inventory/Nomination: Southern Albemarle Rural Historic District. February 2007.
2) Rush, Sheila, and Lindsay R Anthony Baker. Perseverance: An Historical Journey, 1868-2017: Chestnut Grove Baptist Church, Esmont, Virginia. 2017.
Copyright © 2018 by Scottsville Museum

Top Image Located On: Capturing Our Heritage, CDMJ01
MJ01cdMJ01.tif
MJ01cdMJ01.jpg
MJ01cdMJ01.psd

Middle Image Located On: Capturing Our Heritage, CDMJ01
MJ03cdMJ01.tif
MJ03cdMJ01.jpg
MJ03cdMJ01.psd

Bottom Image Located On: Capturing Our Heritage, CDMJ01
MJ02cdMJ01.tif
MJ02cdMJ01.jpg
MJ02cdMJ01.psd