Name: Keene Store

Date: 1990

Image Number: UVA Library, Keene Store
Comments: Built in 1900, the Keene Store was a two-story balconied building at the corner of Scottsville Road (Rt. 20) and Plank Road in Keene, Virginia. Keene Store sold groceries and had two American Oil gas pumps. In 1990, the interior of the store burned, and the building was adapted into a veterinary clinic.

In 1994, Dr. Chris Grover opened a full service companion animal hospital, named the Piedmont Veterinary Service, in this building located at 1418 Plank Road in Keene. In 2018, this veterinary service continues to be a very successful business and is staffed by Dr. Grover, Dr. Karen DeGiorgis, Dr. Cori Lewis, and supporting staff.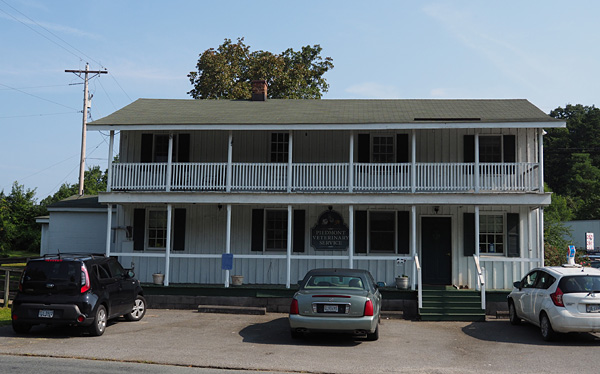 Piedmont Veterinary Service in Keene, August 2018

Scottsville Museum wishes to thank Maxwell Johnson for his research and photographs on this Esmont community business!

References:
1) UVA Library, Keene Store; see: Keene Store
2) Jones, Bernie, et al. "Interview of Ruth Ward and Nancy Luck on August 14, 2001, by Bernie Jones and Deva Woodley of the Race and Place Project. (Oral History)." Race and Place, Rector and Visitors of the University of Virginia, 2001.
3) "Country Stores Poster Presentation - Albemarle County," Historic Preservation Committee, Albemarle County, VA; May 2003. see: Albemarle Country Stores Poster Presentation.


Copyright © 2018 by Scottsville Museum

Top Image Located On: UVA Library, Keene Store;see: Steed Store.

Bottom Image Located On: MJ43cdMJ01.