Name: Esmont National Bank and Post Office

Date: 2018

Image Number: MJ37cdMJ01
Comments: The Esmont National Bank building was built in 1902 to house the bank as well as the offices of the builder, the Lane Construction Company. By the 1920's the building also housed the local post office which was located on the first floor on the right side as one entered the building. In the mid 1920's, Dr. Early occupied an office on the second floor of this building. During the Depression like many other small banks, Esmont National Bank went into involuntary liquidation/bankruptcy in April 1933. In 2018, this building continues to host the Esmont Post Office, which now occupies the two first-floor rooms on the left side of the building's main hall.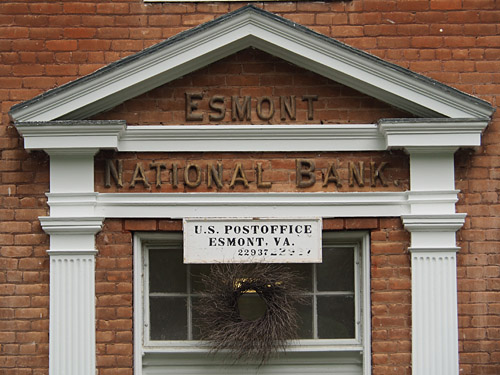 Front door sign of the Esmont National Bank and Esmont Post Office, 2018

A counter check from the Esmont National Bank, dated February 11, 1932


During its bankruptcy proceedings in 1933, the Esmont National Bank's President, H.P. McCarthy wrote the following letter to Pierson (LNU) on March 17, 1933, to review his unsuccessful efforts with the Federal Reserve Bank in Richmond to reopen the Esmont National Bank the day before: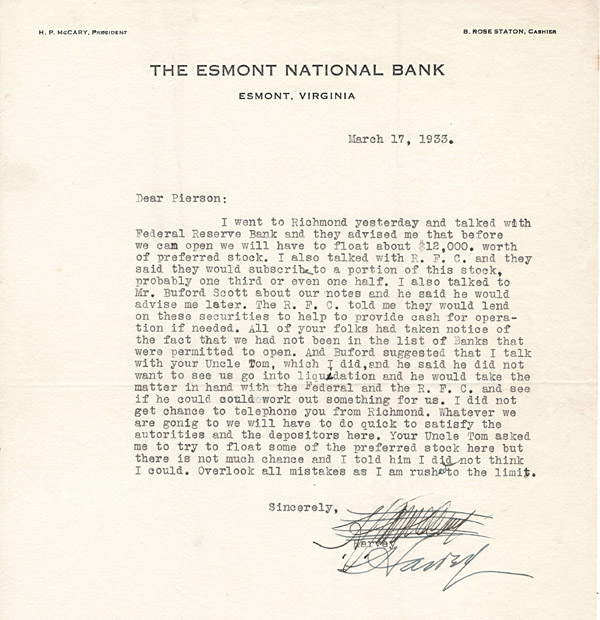 Following is a letter, dated February 8, 1940, from Edward C. Scott, stockholder and Vice President of the Esmont National Bank to the Comptroller of the Currency in Washington, D.C. In his letter, Mr. Scott requested a certificate of dissolution of the corporate existence of the Esmont National Bank: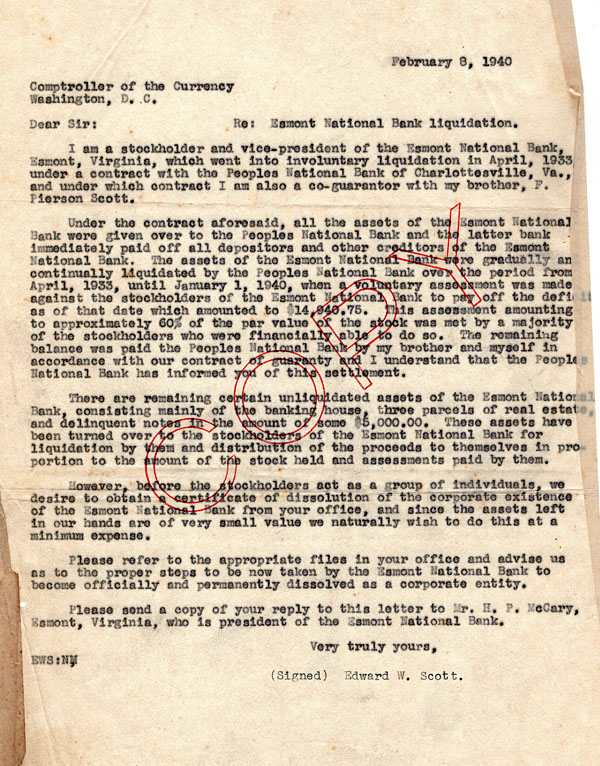 Scottsville Museum wishes to thank Maxwell Johnson for his research and photographs on this Esmont community business!

References:
1) Alexander, Frances, et al. "From the Monacans to Monticello and Beyond: Prehistoric and Historic Contexts for Albemarle County, Virginia." Garrow & Associates, Inc., May 1995; p. 104.
2) Hallock, Jennifer; Gardiner Hallock & Kristie Baynard. "National Register of Historic Places Inventory/Nomination: Southern Albemarle Rural Historic District." February 2007.
3) Purvis, Melva Adcock. "Esmont: My Life on Red Row Hill." Friends of Esmont, 2018. See: http://www.friendsofesmont.com/my-life-on-red-row-hill.html .
4) Letter from H.P. McCary, President of Esmont National Bank, to Scott Pierson, March 17, 1933. Robert Tharpe Collection, Scottsville Museum, Scottsville, VA
5) Letter from Edward W. Scott, Vice President of Esmont National Bank, to Comptroller of the Currency, Washington DC. February 9, 1940. Robert Tharpe Collection, Scottsville Museum, Scottsville, VA.


Copyright © 2018 by Scottsville Museum

Top Image Located On: MJ37cdMJ01

Second Image Located On: MJ38cdMJ01

Third Image Located On: Esmont National Bank Ledger And Documents, R.T. Tharpe Collection, Scottsville Museum

Fourth Image Located On: Esmont National Bank Ledger and Documents, R.T. Tharpe Collection, Scottsville Museum

Fifth Image Located On: Esmont National Bank Ledger and Documents, R.T. Tharpe Collection, Scottsville Museum