Name: Brown's Market

Date: 2018

Image Number: CGcd2018_0169
Comments: The current Brown's Market building at 7724 Irish Road in Esmont dates to about 1990 and is a Sunoco gas station and a convenience store. A business by the name of Brown's Market has occupied that site since at least the mid 1950's. James Jordan did the wiring for the original Brown's Market and for other buildings in Esmont after he went to a school to study electrical work while in his 40's.



Today a large Sunoco logo is blazoned on a canopy over the gas pumps at Brown's Market and dominates the site. However, Brown's Market was perhaps better known for its fried chicken than its gas while Mike Brown owned the original store (motto: World's Greatest Chicken). Mr. Brown moved his business to Charlottesville in the early 2000's, where he opened a new market in Belmont. The C'VILLE Weekly listed the new Brown's store in Belmont as having some of the best fried chicken in Charlottesville.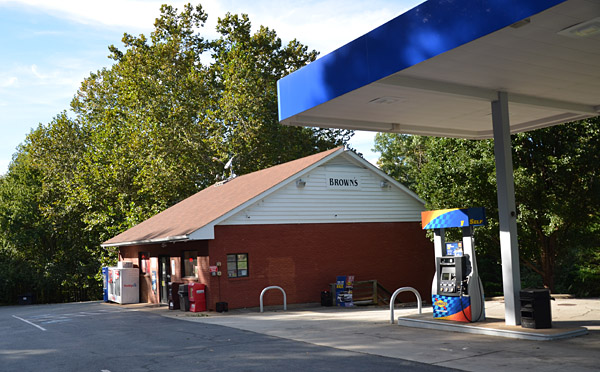 Scottsville Museum wishes to thank Maxwell Johnson for his research and photographs on this Esmont community business!

References:
1) Esmont High School Reunion, 1991.
2) Headley, Megan J. "King Of Cluck: Our Judges Rate The Town's Best Fried Chicken." C'VILLE Weekly, 03 August 2012.
3) Lawrence, Sarah, and James Jordan. "Interview of James Jordan on October 10 and October 30, 2001, by Sarah R. Lawrence of the Race and Place Project (Oral History)." Race and Place, Rector and Visitors of the University of Virginia, 2001.
Copyright © 2018 by Scottsville Museum

Top Image Located On: CGcd2018_0169

Middle Image Located OnEsmont High School Reunion, 1991.

Bottom Image Located On: CG2018_0153