Name: Saint John's Episcopal Church
Date: ca 1910
Image Number: JH10ccdJH01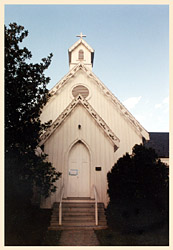 Comments: Saint John's Episcopal Church is located at the north corner of Bird and Harrison Street in Scottsville. This white frame church with Gothic windows and a scrollwork vergeboard was built in 1875 and was the second church in Saint Anne's Parish. The photo above is from an early William E. Burgess postcard; at right, Saint John's Episcopal Church is shown as it appeared in 2001.
In her parish history, entitled St. Anne's Parish, Albemarle County, Virginia, Jo McCleskey details the 1874 deed transfer of this church lot from the Raglands to the Trustees for St. John's chapel for $125 plus interest: "All that lot or parcel of land whereon the aforesaid church is situated consisting of a front of fifty feet upon the Street known in the plan of said town of Scottsville as Harrison Street and running back one hundred and forty feet the same being a part of the lot known in the plan of the said town as lot number one hundred and sixty nine (169). The southern boundary of the same being Bird Street and being bounded on the north and west by the lands of Gro. W. Dawson trustee and the shape of the same being a rectangle." (Albemarle County Deed Book 73, page 96)
The Burgess postcard of Saint John's is from the collection of Jack Hamner. Jack resides in Scottsville, Virginia.
Copyright © 2018 by Scottsville Museum

Image Located On: Capturing Our Heritage, CDJH01
JH10ccdJH01.tif
JH10ccdJH01.jpg
JH10ccdJH01.psd

Image at Right Located On: Capturing Our Heritage, CDCG01
CG01cdCG01.tif
CG01cdCG01.jpg
CG01cdCG01.psd