Name: Old Post Office and Griffin Building
Date: 2010
Image Number: CG85cdCG08
Comments: This building is a two-story, seven bay-wide structure, located at 358 and 370 Valley Street in Scottsville. It was built about 1840 and may have served as an inn during canal days. The left side of the building served as Scottsville's Post Office from 1884 to 1914. The right side of the building was used predominately as a restaurant in the twentieth century. Until the 1950's, the center door was used as an entrance to the restaurant for African American patrons. Presently this center door is used to reach the second floor of the building.
The photo below shows west Valley Street with the old Post Office and Griffin Building in the photo's center and just to the left of the Beal Building.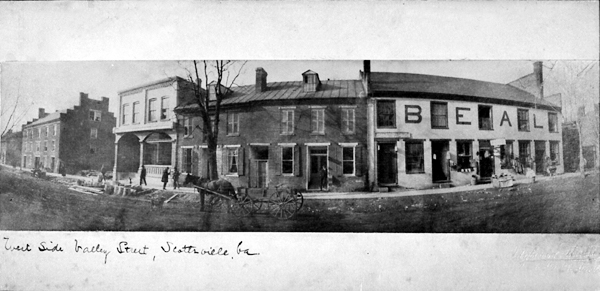 The photograph above is part of the Connie Geary Collection at Scottsville Museum.
Copyright © 2018 by Scottsville Museum

Top Image Located On: Capturing Our Heritage, CDCG08
CG85cdCG08.tif
CG85cdCG08.jpg
CG85cdCG08.psd

Botton Image Located On: Capturing Our Heritage, CDB3
RollTwoNeg22A.tif
RollTwoNeg22A.jpg
RollTwoNeg22A.psd