Name: Snowden Dairy
Date: ca. 1951-1965
Image Number: SDI01cdSDI01
Comments:
In January 2014, Angela Erickson of Lexington, N.C., contacted Scottsville Museum to tell us that she and her husband had been digging around an old railroad track in the Lexington area. Quite by surprise, they uncovered an old milk bottle, which was slug-plated "Snowden Dairy, Scottsville, VA," as shown in the above photo. Angela said she excitedly began researching Snowden Dairy but had not found additional information about the dairy. So she contacted Scottsville Museum. We were intrigued by her bottle discovery as we, too, did not have information about Snowden Dairy in our files. In an effort to learn more, we contacted two avid Snowden researchers, Joanne Yeck and Richard Nicholas.
Snowden farm sits just across the James River to the south of Scottsville as shown in red on this map of the horseshoe bend area of the James: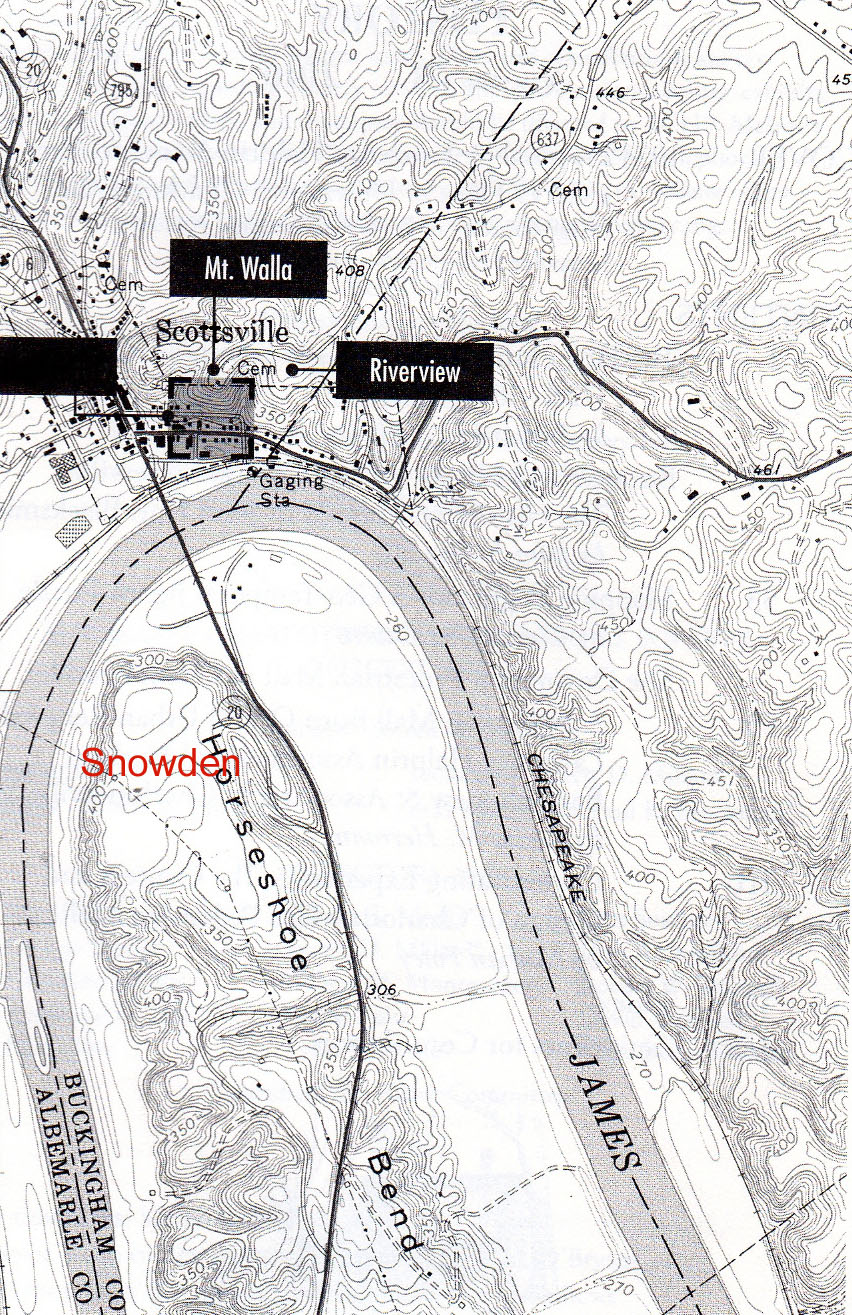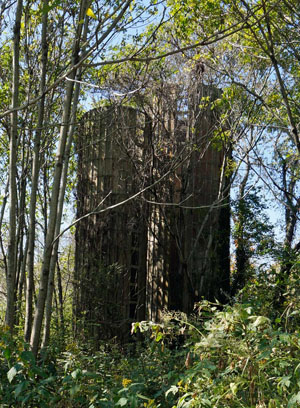 Joanne said that she had been told that a German man bought part of the Snowden lowlands circa the mid-20th century. In October 2013, Joanne visited Snowden Farm and uncovered a clue to a possible dairy farm, namely old, vine-covered equipment and structures such as this silo at right which is still sitting on these Snowden lowlands just across the James River from Scottsville. Richard added that the German man's name was Dominik Stillfried and that he was an ex-German soldier who came to Virginia after WWII. Stillfried started working at Snowden for the farm's owners at the time, Richard said, and performed so well in his farmhand role that the owner soon named him farm manager of Snowden.

With the name, Dominik Stillfried, we quickly surfaced an autobiography by Dominik's wife, Elko von Krogh Stillfried, entitled Leaves in the Wind: Thirty Years Spanning the Continents, and learned that Dominik came to the U.S. in the winter of 1951. For $100 salary per month, Dominik took a job as a farm laborer on Snowden Farm, which his wife described as a small dairy farm across the river from Scottsville. At that time, Snowden Farm consisted of 600 acres, including woodlands and was run as a dairy with a hundred Guernsey cows. The cows were milked with electrically-powered milkers, and in the early days of the dairy, the Snowden milk was delivered daily to Mr. Jessup's Monticello Dairy in Charlottesville. Most of the cattle feed was produced on the farm with a few machines and stored in a silo and other farm structures.
| | |
| --- | --- |
| | |
| Dominik von Stillfried, ca. 1952 | Elko von (Krogh) Stillfried, ca. 1952 |
Dominik married Elko von Krogh on September 06, 1952 in Charlottesville, VA, and they settled in a cottage on Snowden Farm where both Stillfrieds set to work. When Dominik became working manager of the Snowden dairy, he used student trainees for extra help, usually two at a time. In the early years of their marriage, these trainees lived with the Stillfrieds and later in one of the two cottages on the farm. In 1956, the Stillfrieds purchased the 600-acre Snowden Farm from Mr. Jessup with their friend, Emil Schmidt, with a loan of $80,000. After several years of turning the dairy at Snowden into a successful business, the Stillfrieds and Schmidt put Snowden Farm up for sale; see the following advertisements from the Richmond Times-Dispatch, dated August 1964 and August 1965: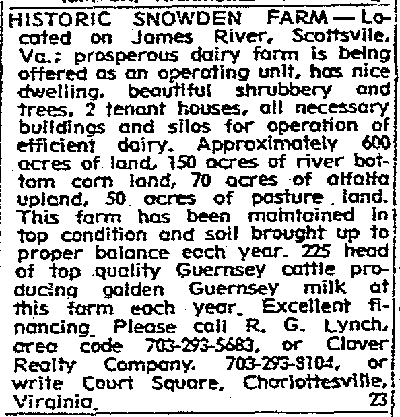 Richmond Times-Dispatch, 23 August 1964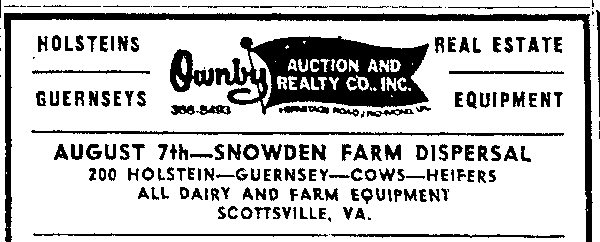 Richmond Times-Dispatch, 01 August 1965
In 1964, Dominik and Elko next purchased Scottland Farm, a 1025 acre farm west of Scottsville for $578,000. (Note: Scottland Farm was the old Scott place where John Scott (1725-1798) lived; John was the grandfather of John Scott (1796-1829), who was the founder of Scottsville.) Elko described this experience as quite elating: "The transformation of a life of 'hands on' farmers at Snowden to that of managing this much larger project at Scottland was quite elating. We had a regular dairy crew amongst the ten employees, but Dominik's presence and action was required everywhere in the operation....The dairy crew would frequently call Dominik out in the middle of the night for some cow care or even milking if one of them did not show up. It never was an easy job, but we did it and progressed well as 'Virginia Country Gentlemen.'"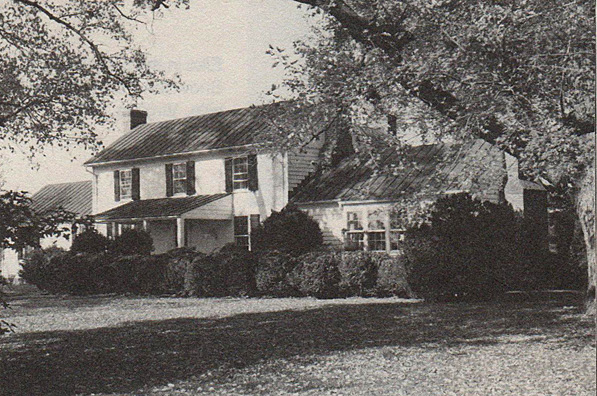 Scottland Farm, ca. 1964
"Eventually together with a good friend from Germany, we bought back Snowden Farm to run it along with our Scottland Farm, six miles distant. Unfortunately, 3 hurricane-induced floods quite devastated the buildings and lowlands of Snowden Farm and proved that the re-purchase of Snowden had been a miscalculation. It had to be sold again."
Dominik von Stillfried was born in Germany in 1925, and was the son of Franz de Paula von Stillfried-Mettich and Maria Veronika (Strachwitz) von Stillfried. Dominik is passed away on July 09, 2016, in Charlottesville, VA, and he is buried at the St. George Catholic Church Cemetery in Scottsville, VA. Elko von Krogh Stillfried was born on May 21, 1927, in San Francisco, CA; she was the daughter of Mathilda and Harold von Krogh. Elko passed away on February 29, 2020, in Charlottesville, VA, and she is buried at St. George Catholic Church Cemetery in Scottsville. Dominik and Elko are survived by their son, Gebhard Stillfried and his wife, Agnes, of St. Stephens Church, VA, and their two children, Franz and Charlotte. Also surviving Dominik and Elko are their daughter, Christiane Riederer and her husband, Max of Ashland, VA, and their two daughters, Josephine and Elena. Dominik and Elko were preceded in death by their son, Franz Stillfried, who is also buried at St. George Catholic Church Cemetery.

Special thanks to Joanne Yeck for her Snowden silo photo and Richmond Times-Dispatch images of the Snowden Farm sale advertisements above. Also we thank Richard Nicholas for connecting the Stillfrieds to Snowden Dairy and Scottland Farm and thus firing up our research. Finally, thank you, Angela Erikson for capturing our interest in Snowden Dairy and to Elko Stillfried for her very helpful autobiography that provided details about the Snowden Dairy beginning in 1951.
We will continue to research the dates of the Stillfrieds' two purchases and sales of Snowden Farm in deed records and will add that information as it is acquired. And if any of our readers know more about Snowden Dairy, these milk bottles, and the years that the dairy was in existence, don't hesitate to contact us at [email protected]. We'd love to learn more!
Copyright © 2020 by Scottsville Museum

Top Image Located On: Capturing Our Heritage, CDSDI01
SDI01cdSDI01.tif
SDI01cdSDI01.jpg
SDI01cdSDI01.psd

Silo Image Located On: Capturing Our Heritage, CDJY03
JY02cdJY03.tif
JY02cdJY03.jpg
JY02cdJY03.psd

Image of Dominik von Stillfried Located on Obituaries, Daily Progress, July 19,2016, Charlottesville, VA.

Image of Elko von (Krogh) Stillfried Located on book cover of Leaves In The Wind: Thirty Years Spanning the Continents, New York, NY: Vantage Press, Inc., (2005).

Image of Scottland Farm Located on Leaves In The Wind: Thirty Years Spanning the Continents, by Elko von Krogh Stillfried, New York, NY: Vantage Press, Inc., 2005, p. 194.

Reference:
Stillfried, Elko von Krogh. Leaves in the Wind: Thirty Years Spanning the Continents, New York, NY: Vantage Press, Inc., 2005.

Virginia Department of Health, Richmond, VA, Virginia Marriages, 1936-2014, Roll: 101168791, Marriage of Dominik Wolfgang Stillfried and Elko Elisabeth von Krogh.

Obituary of Dominik von Stillfried, July 9, 2016; Daily Progress, 19 July 2016, Charlottesville, VA.

Obituary of Elko Elizabeth von Stillfried, February 29, 2020; Daily Progress, 24 March 2020, Charlottesville, VA.