Name: Scottsville Flour Mills
Date: ca. 1974
Image Number: GD01cdGD01
Comments: The Scottsville Flour Mills was a five-story building, located at Main and Ferry Streets in Scottsville. It was a state-of-the-art mill that was built about 1910 and ran with steam. Arthur Thacker managed the mill for Captain John Pitts, its owner, from 1911-1917, until his health worsened due to breathing flour dust in the mill. Later a farm supply business was added to the mill, and two other Scottsville men, Cecil Harman and T. Tyler Robertson, worked for 40 years at the mill. But in February 28, 1977, the flour mill was totally destroyed by a fire.
This early morning blaze leveled the wood-frame mill and threatened several homes and a nearby service station with heat so intense that it cracked windows and scorched wooden doors. The old mill building, owned by Keith Denby, contained feed, garden supplies, guns, ammunition, and other merchandise. At one point, live ammunition started exploding inside the structure, and as one firefighter said, "It sounded like World War III!"
The cause of the spectacular blaze was believed to be arson, and this fire came exactly one year after two downtown fires on February 26 and 28, 1976, destroyed several Main Street businesses: the Travelers' Rest Hotel, its adjoining service station, W.F. Paulette and Sons lumber and hardware store. The Scottsville Methodist Church was also damaged in lumber store fire and had to be rebuilt. These three blazes remain unsolved.

Details of the 1977 blaze that destroyed Scottsville Flour Mills were documented in the following Daily Progress article by Bob Gibson dated 28 February 1977:

Blaze Levels Mill
Arsonist Suspected in Scottsville
SCOTTSVILLE - Arson is suspected as the cause of an early morning blaze today that sent flames leaping several hundred feet in the sky above downtown Scottsville and leveled a four-story warehouse building. The building was across Main Street from a lumber company warehouse gutted by fire exactly one year ago.
Today's fire consumed the old, wood-frame Scottsville Flour Mills building located near the banks of the James River south of VA 6, and threatened several homes and a service station with heat so intense it cracked windows and scorched wooden doors on the nearby structures.
Approximately 100 firefighters from Scottsville, Charlottesville, and throughout Albemarle County were plagued by some of the same problems that hampered efforts to fight last February's two major fires on the same block.
Firefighters at the scene said the ground floor of the flour mill was fully ablaze when the first of 12 units arrived shortly after the 1:30 a.m. alarm, but they were unable to draw water from the town's antiquated hydrant system and spent nearly an hour attempting to set up lines and trucks to pump river water from the James.
"There was so much mud that we got two engines stuck trying to get to the James," said Lt. Max Tolliver. "There was no water in the hydrants, and we couldn't get to the river."
The fire spread to a utility transformer in front of the business which sprayed hot oil 40 feet in the air and also cut telephone lines on Main Street, knocking out service to about 250 customers.
The old flour mill building contained, feed, garden supplies, guns, ammunition, and other merchandise, according to Capt. James Higgins of Albemarle County Sheriff's Department.
The building served as a feed mill and general store which sold a wide variety of farm and garden supplies, including fertilizer and food stuffs, according to several Scottsville residents.
Officials declined to estimate the dollar loss from the blaze, but one firefighter said the building appeared to be loaded with supplies. A state arson investigator at the scene said he had been summoned to investigate the origin of the blaze, but refused to comment on its cause.
"We suspect arson," said Lt. Tolliver, who noted that firefighters were first called out to fight a blaze at an unoccupied house 14 miles west of Scottsville near Schuyler shortly before the suspicious fire started in town.
Firefighters spent three-and-a-half hours battling the intense blaze in Scottsville before the old warehouse building was reduced to a smoldering rubble, but were able to save the adjoining gas station and three houses on the block.
Officials reported no major injuries caused by the fire, although at least one firefighter was taken from the scene suffering from heat exhaustion.
Two major fires on Main Street last February destroyed the W.F. Paulett & Son lumber company warehouse, a service station, and an old hotel building and gutted the town's historic United Methodist Church, causing an estimated $1 million damage.

For more information on the Scottsville Flour Mills, read the following Scottsville Monthly article by Ruth Klippstein, dated November 18-December 15, 2011:

Memories of the Scottsville Flour Mills
The Scottsville Flour Mills, burned to the ground in a spectacular 1977 fire, is passing out of our common memory as an important business where wheat flour and corn meal were ground. Responses to a request for information now tend to elicit one of three responses (other than "I can't remember"): "It was a huge building,"; "It sold a nice range of feed and seed products,"; "It was a great hang-out for men."
But first, of course, it was a mill. A. Raymon Thacker, whose father, Arthur, was its miller from 1911 to 1917, describes it as "somewhat sophisticated," a new steam-driven mill run with a coal-fired engine. "It was a beautiful big nice mill."
Located on east Main Street at Ferry Street, the lot occupies the area between Rt. 6 and the railroad. From the front the frame structure rose two stories over the porch-covered main floor, plus the windowed horizontal dormer running the length of the gabled roof's ridge. From the rear, the building clearly had, in an undated photo in the Museum's collection, a basement in the stone foundation plus three stories topped by the windowed dormer. The Mill therefore had a total of five levels, though these were not necessarily visible from the street. The aerial photograph taken when the James River bridge was still located nearby shows the Mill as the major feature on Scottsville's waterfront, more massive than the Canal Warehouse.
Tom Woodson, who worked at the Mill when it was producing animal feed, describes the interior as very impressive, with 12 by 12 inch wooden beams running the length of the ceilings and "a huge open space throughout." He says that augers powered the grain from a trough on the porch facing Main Street up to storage bins. "When that machine was going, you could feel it through the whole building."
The original flour mill was built in 1908 by a consortium of Scottsville merchants, including Luther Pitts, Captain John Pitts, a Mr. Bugg, and one or two others, according to Raymon Thacker. He describes the "huge steam engine and belts going up and down all over the building, taking wheat from where it was ground to where it was bagged."
The owners had no one knowledgeable to operate the mill, and tracked down Arthur Thacker "running one just like it in Stuart's Draft. Mr. Pitts went and asked him," Raymon Thacker says, "and offered a considerably bigger salary. He thought about it and eventually said he'd come to Scottsville if he could bring Mr. Powell, his assistant." So the families moved together to Scottsville in the spring of 1911.
"It is still interesting to me how my father could pick the right stones to grind corn and wheat correctly," Thacker says. "It was intricate work; he had to dress the stones frequently with a small hammer." Most fascinating to the young Thacker was the nearby cooperage, to the south of the mill, where barrels for the flour, and other goods, were constructed. George Logan was the cooper-"Uncle George" to the boy-and would set him up where he could watch as the staves were bound with iron bands. Logan used small hammers in this work, and could "make music" with them to entertain the child.
Luther Moore lived next door to the Mills and was the fireman who ran the steam engine. Coal was stored in a tower further east on the river, at the railroad track. People brought "wagon load after wagon load of wheat for years," Thacker says. The bitter winter of 1917, with snow up to his waist and the James frozen hard, Arthur Thacker wrapped sacks around his legs to walk to work. That year the ever-present dust compromised his health, and he left to work at C.R. Dorrier's hardware store.
Richard "Lud" Nicholas descries the Mills as "a big operation." He remembers "riding there with my father with wheat to be ground, around 1940. The loading, travelling from the farm in Buckingham County, and unloading at the mill would take most of the day."
The Mills, according to Bob Spencer, was a stockholding company and in its heyday was managed by David Pitts and J.S. Dorrier ("The Pittses and Dorriers ran the show in Scottsville for many years," says Bob-a Pitts on his mother's side.). In June, 1911, they had an ad in the "Scottsville Enterprise": "We will give one Barrel of Straight Family Flour and sixty pounds of Offal for 5 1-2 Bushels of Dry Wheat." Their operation is further elaborated in a 1914 letter preserved by Jack Hamner to a patron in Glenmore: "We are shipping [you] 1 barrel flour which is to be taken out of your wheat when you bring it in…. We think on account of our improved machinery we can put out a better grade of flour than any other mill in this section."
The Mill continued to give credit. A 1932 letter to a Howardsville customer reminds him of an overdue bill for one barrel of flour, "loaned almost twelve months ago." The Scottsville Flour Mills kept accounts with many people in town, including, according to Jack Hamner's collection, W.E. Burgess, Mrs. Sclater, L.H. Walton, and the Farmers' Exchange. The business's typed inventory from May 1, 1917, includes $2,800 in accounts received; $6617 cash in hand and in bank; $1,073 stock in hand; $1,700 tied up in "Ware room and Fixtures." The brands of flour they were then producing, listed on the letterhead, were Pine Knot (fancy), Standard (patent), and Golden Road (family). In 1932, E.L. Johnson wrote to another Howardsville customer in regards to his outstanding bill for $3.85 and one barrel of flour; "we have had nothing but promises…[and] will have to take legal action."
Luther Pitts and John H. Worsham ran the Scottsville Flour Mills in the early 1880s, and by 1937 it was owned by Pitts and E. L. Johnson, according to Bob Spencer. They added a general store sometime after this, as the need for milling decreased; farmers were diversifying crops and national brands of flour were accessible in stores.
In the 1950s L.L. Armistead operated the mill, advertising in the Scottsville High School yearbook as a wholesale grocer offering Scottsville Flour Mills products. "A nice old gentleman," according to Bob Spencer. Later. T. Tyler Robertson owned the mill, continuing both functions, and was assisted for years by Cecil Harmon, whom Tom Woodson calls "a big man at the mill, a character everybody loved."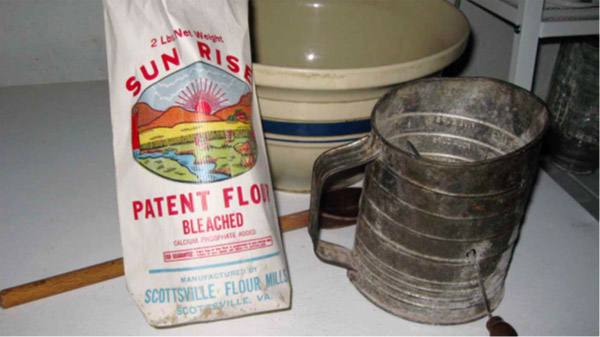 Tom Woodson worked at the mill as a young teen after school and on Saturdays starting in 1972; no flour was being ground, but Cecil taught him how to make scratch feed by pouring out wheat and corn on the floor, mixing it with a grain scoop, and begging it in ten and 25 pound bags tied with a miller's knot, akin to a clove hitch. He eventually became accurate enough to estimate his weights exactly, filling the 10 pound bag to 11 pounds, accounting for the weight of the bag, and the 25 to 26 pounds. Tom also peppered hams which were sold "sometimes three or four at a time, to people who came from New York." "They were famous for the hams there," says Lucinda Wheeler. One's of Tom's additional duties was to shoot rats in the mill.
Tom would work Saturdays from 8 to 6, receiving a $10 pay check to cover all his school clothes and expenses. "The Mills was one of my true loves," he says. He was living two doors away the night of February 28, 1977, when, at 1:30, fire started in the Mills. The corn bins had just been filled and Tom says "you could see the corn melting." The staff also swept the floors with oil to keep down dust, a possible contributing problem, Tom says.
This was one year after arson fires destroyed other major structures on Main Street. One fireman, of the 12 units responding to the call, told Tom that "if they'd had water right at the beginning, to wet the floor, they might have had a chance." But the hydrants were dry, though the Albemarle County Service Authority had promised upgrades after the 1976 fires; and trucks driven to the river to pump water got mired in mud. The fire was so hot that plastic trash bags on Tom's back porch started to melt. "There was cat in the building with three or four kittens, and there's no way they could have gotten out," he still remembers.
Ted Childress was there as a fireman that night, and says, "It was a very bad, a very hot fire. Once she started, there wasn't any thinking about putting it out." He remembers the mill's good products, delivered within a wide area to mom and pop groceries, and its function as a farmers' hangout with poker games.&n bsp; "Real nice games, just local people; it was kind of a fun place to go." "The men, not the women," states Lucinda Wheeler.
The mill was owned by Keith Denby in the 1970s. Andy Wilson, new to the area and trying to grow a big garden, remembers that "It seemed very natural for men to be sitting around there. It was a slice of Southern life I'd never seen before and hasn't been in town quite the same way since. But [to a newcomer and novice farmer] those men were intimidating, whether they meant to be or not."
The fire, "the tragedy," as Tom Woodson terms it, was thought to be arson, and a state investigator worked on the issue. Nothing further came of it. The James River Reeling and Rafting is on the site now.

The top image is part of the Geneva Denby collection; Geneva is a resident of Scottsville. The second image is part of the Ruth Klippstein collection; Ruth is a resident of Scottsville The third image is part of the K. Edward Lay collection; Ed is a resident of Charlottesville, VA.
Copyright © 2018 by Scottsville Museum

Top Image Located On: Capturing Our Heritage, CDGD01
GD01cdGD01.tif
GD01cdGD01.jpg
GD01cdGD01.psd

Middle Image Located On: Capturing Our Heritage, CDRT01
RT02cdRT01.tif
RT02cdRT01.jpg
RT02cdRT01.tif

Bottom Image Located On: Capturing Our Heritage, CDKLE01
KLE07cdKLE01.tif
KLE07cdKLE01.jpg
KLE07cdKLE01.psd