Name: Bank of Scottsville by Robert Tharpe

Date: 1852 - 1865

Image Number: RWT04cdRWT02

Comments: The Virginia General Assembly passed an Act to establish the Bank of Scottsville in the County of Albemarle on March 12, 1849. James W. Mason, a notable Scottsville resident and builder of "Old Hall" was listed as a director. The Bank was not established then, however; three years later, the Bank was chartered as an independent Bank on May 28, 1852. Independent banks were backed by approved public securities deposited with the state treasurer. There were two major issues of currency. The initial issue was backed by the State of Virginia securities and was countersigned by the State Treasurer John Strother Calvert or Jonathan B. Stovall. The second issue of currency by the Bank of Scottsville was not backed by the State of Virginia.

James W. Mason was elected as President of the Bank of Scottsville, and William D. Davis was elected as its Cashier. The Bank was situated on the west side of Valley Street and one lot North of Jackson Street. On October 1, 1860, James W. Mason sold the lot and "new Brick Banking House that has been recently erected" to the Bank of Scottsville and Jefferson Insurance Company of Albemarle for $100.00. The Bank went out of business at the end of the Civil War. After falling into disrepair by the early twentieth century, the building was replaced by a concrete structure that retained the footprint of the bank's original front piers.

There were several different engraving companies who printed notes for the Bank, including American Bank Note Company, Philadelphia, Pa; its predecessor Danforth, Wright & Co., Philadelphia and New York; and Hoyer & Ludwig, Richmond, Va.

The Bank notes were issued in denominations of $1.00, $5.00, $6.00, $7.00, $9.00, $10.00, $20.00 and $50.00. All notes issued by the Bank were signed by W. D. Davis, Cashier and J. W. Mason, President.

Hoyer & Ludwig printed the $1.00 and $50.00 notes. There were 2 different $1.00 notes with the major difference being a "blue" overprint "ONE". Hoyer L& Ludwig was the only printer of that time period, that used "blue" ink.

$50 Bank of Scottsville bank note issued on Aug. 15, 1861; printed by Hoyer & Ludwig


Both Danforth, Wright & Co. and American Bank Note Co. printed the $5.00, $6.00, $7.00, $9.00, $10.00 and $20.00 notes.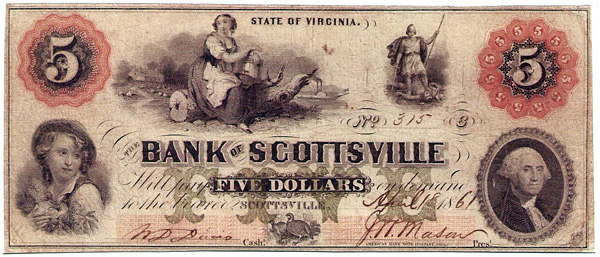 $5 Bank of Scottsville bank note issued on April 18, 1861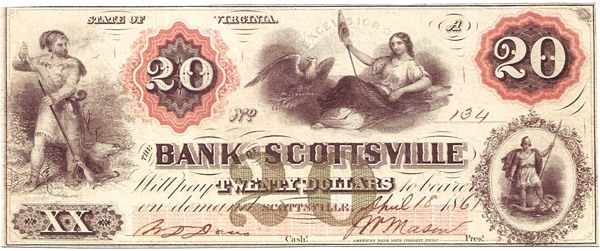 $20 Bank of Scottsville bank note issued on April 18, 1861


The initial issue of the $5.00, $10.00 and $20.00 notes was in black and white and the second issue was the same except for a red overprint that circled the numeral in the upper left and right top corner of each note. The third issue was printed in black and white with green overprint of the denomination. The $6.00, $7.00 and $9.00 notes were printed in black and white with no overprint. It is not known why the odd denomination $6.00, $7.00 and $9.00 notes were issued, but it is speculated that various items of commerce, such as a hogshead of tobacco were priced in that range.

The Scottsville bank notes have an aesthetic hierarchy commensurate with their denominational values. The range of notes started with the colorless $1.00 note, which featured two agricultural images. Mid-value notes included a limited color palette with additional images of more sophisticated Virginia subjects, such as the Commonwealth seal, George Washington, and representations of Virginia's dual agricultural and commercial identities. The highest denomination banknote engraving retained some of these themes as well, including George Washington, classicism, and liberty, but excluded the less universally accepted imagery of agriculture and slavery.

Another trend with the Scottsville banknotes seems to have been their pattern of distribution. Frenzies of note issuance occurred, followed by periods when it appears no banknotes were issued. For the Bank of Scottsville, the State of Virginia secured 1857 notes, and the mid 1861 Civil War notes represent the vast majority of known notes.

References indicate the $1.00 denomination note is the most readily available with a Rarity Scale of 3C which indicates 50 to 99 are known to exist. The $6.00, $7.00 and $9.00 have a Rarity Scale of 7H which indicates 2 to 4 of each are known to exist. Generally the $5.00, $10.00, $20.00, and $50.00 bank notes have Rarity Scales of 5G or 6G which indicates 5 to 24 of each are known to exist.




Scottsville Museum wishes to thank Robert Tharpe of Charlottesville, VA, for sharing the results of his Bank of Scottsville research. Robert is an enthusiastic Scottsville history researcher and a member of the Museum's Board of Trustees.

References:
1) Virginia Obsolete Paper Money by Richard Jones and Keith Littlefield and published for the Virginia Numismatic Association by Frank Hannah in 1992.
2) Article in the Magazine of Albemarle County History, Volume 74, 2016, by Henry Hull.





Copyright © 2018 by Scottsville Museum

Top Image Located On: Capturing Our Heritage, CDRWT02
RWT04cdRWT02.tif
RWT04cdRWT02.jpg
RWT04cdRWT02.psd

Second Image Located On: Capturing Our Heritage, CDRW02
RWT06cdRWT02.tif
RWT06cdRWT02.jpg
RWT06cdRWT02.psd

Third Image Located On: Capturing Our Heritage, CDRW02
RWT03cdRWT02.tif
RWT03cdRWT02.jpg
RWT03cdRWT02.psd

Fourth Image Located On: Capturing Our Heritage, CDRW02
RWT05cdRWT02.tif
RWT05cdRWT02.jpg
RWT05cdRWT02.psd