Wilson Skipper Nelson, Jr.
Photo not available
Name: Wilson Skipper Nelson, Jr.
Branch of Service: U.S. Army
Unit: 855th Engineer Battalion (Aviation)
Rank: T/5
Dates of Service:11/20/1942-11/11/1943
Missing in Action or Buried at Sea in Pacific.
Area of Service: Asiatic-Pacific
Parents: Mr. and Mrs. Wilson S. Nelson,
Esmont, VA
T/5 Wilson Skipper Nelson, Jr., died while enroute from San Francisco to Townville, Australia, in the early morning hours on 11 November 1943 when his unescorted troopship, the SS Cape San Juan, was torpedoed near the Fiji Islands. The Cape San Juan eventually listed to the side and then sank from the torpedo damage on 13 November.


Research by Alec Pandaleon, III, Clinton Corners, NY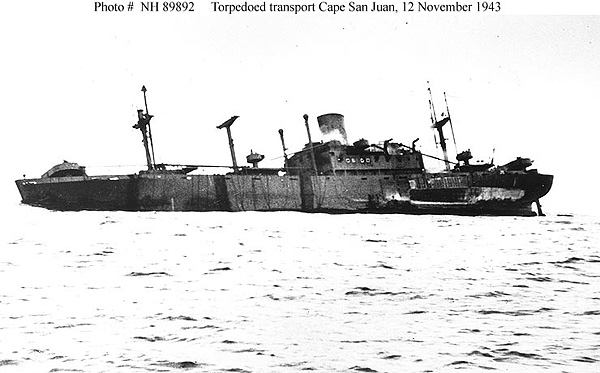 Photo courtesy of U.S. Naval Historical Center, Washington Naval Yard, DC

Cape San Juan, a 6711 gross ton C1-B type cargo ship, was built at Long Beach, California, for the U.S. Maritime Commission. Completed in June 1943 and converted to a troopship during the next two months, she was assigned to the American Hawaiian Steamship Company for operation. Cape San Juan made one round-trip voyage between San Francisco and the south Pacific during August-October 1943 and late in the latter month began a second trip, this time to Australia. While near the Fiji Islands on 12 November 1943 (local time -- 11 November in the U.S.) she was torpedoed by the Japanese submarine I-21. More than a hundred lives were lost among her crew and passengers as a result of this attack and the subsequent abandonment of the ship. Attempts were made to tow Cape San Juan to port, but she sank on the following day.



The telegram notifying Alice M. Nelson of her son's death on 11 November 1943: