Roger F. Tapscott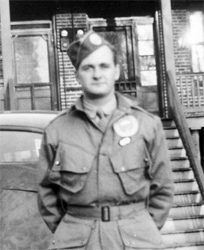 Name: Roger F. Tapscott
Branch of Service: U.S. Army
Unit: 507th Parachute Infantry
Rank: T/5
Dates of Service: 6/3/1942-6/15/1944
Killed in action in Normandy, France.
Theater of Service: Europe
Wife: Mrs. Pauline Lottie Tapscott
Scottsville

Roger F. Tapscott Killed in Action in France
Scottsville News, 3 August 1944 (p.1):
Corporal Roger F. Tapscott of the U.S. paratroopers was killed in action in France, according to a telegram recently received by his mother, Mrs. Sidney Tapscott.
Corporal Tapscott joined the armed forces on the third of June 1942 and had been overseas for 6 months.