Jesse Barrett Grove, Jr.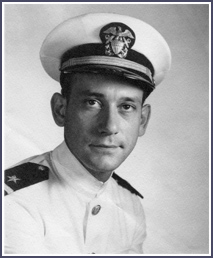 Name: Jesse Barrett Grove, Jr.
Branch of Service: U.S. Navy
Unit:
Rank: Lieutenant (JG)
Dates of Service: 25/Apr/1944-
09/Jun/1946
Theater of Service: American

OBITUARY
Daily Progress, Charlottesville, VA
October 18, 2012
JESSE BARRETT GROVE, JR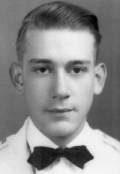 Jesse Barrett Grove, Jr., of Scottsville, Virginia, died peacefully at his home on Tuesday, October 16, 2012.
He was born in Elkton, Virginia, on August 25, 1918, to the late Jesse B. Grove Sr. and Mabel Forrer Grove.
He was predeceased by his wife of sixty-one years, Jacqueline Beal Grove; and his sister, Elsie Barrett Long. He was a direct descendant of the pioneer, Christian Grove, who settled on the Hawksbill Creek in Page (then Shenandoah) County in 1756. Mr. Grove grew up in Dayton, Virginia, received a B.S. degree in chemical engineering from Virginia Polytechnic Institute in 1939, and was employed by the Virginia State Highway Department in Richmond, Virginia, as a testing chemist. In 1940, he married the former Jacqueline Beal of Scottsville. In 1942, he joined the United States Patent Office as an Examiner in the chemical division. In 1944, he received a commission as an officer in the United States Naval Reserve. After training for sea duty, he was ordered to New York City to help staff the newly created Navy Office of Patents and Inventions. After the war, he returned to the Patent Office in Washington, D.C., and received an LLB degree from George Washington University. He was admitted to the Virginia Bar in 1950. He was then appointed to the Department of Justice and served as an attorney in the Patent Section of the Civil Division under Warren Burger (later Chief Justice of the United States Supreme Court).
Mr. Grove joined the patent law firm of Bacon and Thomas in 1956 and for the next 27 years specialized in the law of chemical, metallurgical and pharmaceutical patents. He and his family resided during this time on Lawyer's Road in Vienna, Virgina. Upon retirement in 1983, he moved to Scottsville, Virginia, where he became active in civic affairs serving the Town as Town Attorney, then as a member of the Planning Commission and finally on the Board of Zoning Appeals. Mr. Grove was a member of the Scottsville Rescue Squad, the Scottsville Presbyterian Church, the Scottsville Lions Club, the Tri-County Riding Club, and Meals on Wheels.
Mr. Grove had a lifelong love of gardening, fishing on the James River, and cooking for himself and the family. He remained active until the very end of his life, going to the Fitness Center three times a week, and holding twice-monthly cocktail parties for the "Lions Ladies." He is survived by a son, Mayor Jesse B. Grove III and wife, Leanne, of Scottsville; a daughter, Sally Ann Chapin and husband, Roger, of Fernley, Nevada; granddaughter, Kate Grove Bucsi of San Francisco, California; grandsons, Jesse B. Grove IV of Walnut Creek, California, Theodore B. Grove of San Diego, California, Ivan W. Grove of Scottsville, Jake Chapin of Fernley, Nevada, and Nicolas Chapin of Shanghai, China; plus seven great-grandchildren.
A memorial service will be conducted 3 p.m. Sunday, October 21, 2012, at Thacker Brothers Scottsville Funeral Home by the Reverend Gordon Lindsey and Pastor Robert K. Spencer. The family will receive friends from 4 until 5 p.m. Saturday, October 20, 2012, at the funeral home.