James Edward Thompson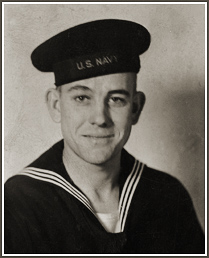 Name: James Edward Thompson
Branch of Service: U.S. Navy
Unit: NSD, Pearl Harbor
Rank: Seaman 1st Class
Dates of Service: 6 Nov. 1944-
18 Mar. 1946
Theater of Service: Asiatic-Pacific,
American

James E. Thompson at Great Lakes, Ill.
Scottsville News, 7 December 1944 (p.1):
James E. Thompson, 19, son of Mr. and Mrs. Charles E. Thompson, R. 2, Scottsville, is receiving his initial Naval indoctrination at the U.S. Naval Training Center, Great Lakes, Illinois.
His recruit training consists of instruction in seamanship, military drill and general Naval procedure. During this period, a series of aptitude tests will be taken by the recruit to determine whether he will be assigned to a Naval Service School or to immediate duty at sea.
When his recruit training is done, the seaman will receive a period of leave.