Carl L. Combs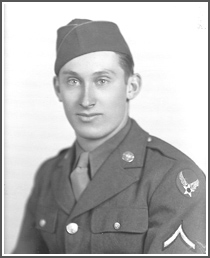 Name: Carl L. Combs
Branch of Service: U.S. Army Air Forces
Unit: 11th Heavy Bombardment Group,
7th AAF
Rank: T/Sgt.
Dates of Service: 3/9/1943-6/27/1945
Area of Service: Asiatic-Pacific

Carl L. Combs Promoted to Technical Sergeant
The Scottsville News, 18 January 1945

A 7th AAF Base in the Marianas - Carl L. Combs of Scottsville, VA, engineer-gunner on a 7th AAF Liberator based in the Marianas has been promoted to Technical Sergeant.

Sgt. Combs, who joined the 7th AAF in the Pacific last May, has participated in many of the recent aerial attacks on the Volcano and Bonin Islands less than 600 miles from Tokyo. He was graduated from Scottsville High School in 1942 and employed as a riveter by the Glen L. Martin Corporation, Baltimore, MD, prior to entering the Army in March 1943.

Sergeant Combs Congratulated by General Landon:
The Scottsville News, 18 January 1945

A 7th AAF Heavy Bomber Base in the Marianas - Because of the terrific pounding they gave the Jap-held Volcano Islands on the third anniversary of Pearl Harbor, Staff Sergeant Carl L. Combs of Scottsville, VA, aerial gunner, and other members of this 7th AAF heavy bombardment group were praised by Brigadier General Truman H. Landon, Commanding General of the 7th Bomber Command.

So successful was the combined Liberator bomber-B29 Superfortress attack, that General Landon telegraphed congratulations ---"for a fine mission to Iwo Kima which makes the Nips three-year headache worse."

Taking off from their Mariana base, wave after wave of 7th AAF B24s swept over the heavily fortified stronghold. Each Liberator dropped 3 tons of bombs on enemy installations below.

Navy reconnaisance photos taken immediately after the raid showed direct hits on supply and ammunition dumps, oil and gas storage tanks, communication centers, shops, and airstrips.

Sergeant Combs' parents are Mr. and Mrs. Collie Combs of Scottsville.