Name: Victory Hall
Date: ca. 1925
Image Number: Roll3Neg20A
Comments: Victory Hall, later called Victory Theatre, was completed in 1920 on Scottsville's Valley Street to commemorate the Armistice of World I. It was the dream of Scottsville drama teacher, Marion McKay, to have a setting for dramatic performances and traveling vaudeville and Chautauqua shows. Designed by D. Wiley Anderson, a local architect, the hall was constructed of yellowish brick made from John Martin's foundry on the low grounds of old Snowden. Victory Hall became Scottsville's cultural center for over four decades as it hosted local dramatic productions as well as the traveling shows that came to town each year. Even the famed violinist Fritz Kreisler once appeared here.
The exterior featured steps, an alcove, and an open half-dome, now preserved in the arch above recently-added front doors. The interior, designed like an opera house, had a lobby, stage, and proscenium. The hall comfortably sat an audience of over three hundred with an interior with a balcony, a lovely heavy velvet stage curtain and embossed valance, and two, large moose heads were displayed on each side of the stage. There were also two backstage dressing rooms. An ornate mirror, recently discovered intact, was part of the elegant decor which included chandeliers and upholstered theatre seats.
With the advent of movies, William E. Burgess introduced silent films with player piano accompaniment to Victory Hall audiences. Eventually the classics and musicals of Hollywood's Golden Era were shown here using a big screen and modern projectors; shown below is the Burgess 'Talking Pictures' program for three months in 1934. However, live performances and events were always welcome on its stage. For over thirty years, Victory Theatre was the venue for Scottsville High School's senior class plays, graduation ceremonies, beauty contests, and local talent shows. In the 1940's and 50's, many of the future greats of country music performed on the Victory Theatre stage.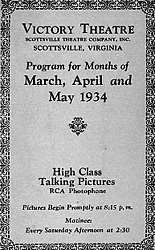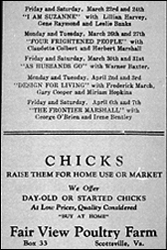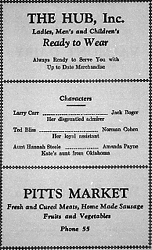 Victory Theatre eventually closed due, in part, to modern transportation and the increasing popularity of television. In the early 1960's, it was converted into the Scottsville Municipal Building with town offices and meeting rooms upstairs, and a large parking bay downstairs which was first used by the volunteer fire department and later by the volunteer rescue squad for housing vehicles. After the rescue squad moved to its current Scottsville location, the Horseshoe Bend Players received permission to perform The Lion in Winter in the spring of 1999, using portions of the original Victory Theatre stage and auditorium. This was the first dramatic performance in the building in over thirty years. Today the downstairs area of Victory Hall has been converted into a flexible community theatre space and once again provides a venue for music, drama, and films. Exterior doors were installed in the front of the building. Interior spaces were constructed accommodating the 'black box theatre' performance area, a backstage area, tech booth, and renovated lobby. Scottsville Town Offices remain upstairs in this building. Following is a 2010 photo of Victory Hall: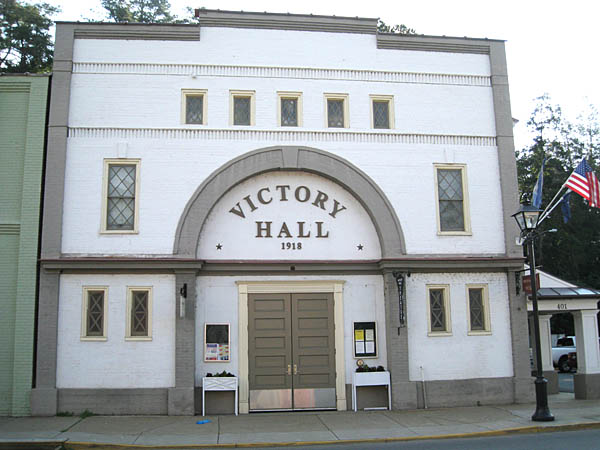 Copyright © 2001 by Scottsville Museum

Top Image Located On: Capturing Our Heritage, CDB03
Roll3Neg20A.tif
Roll3Neg20A.jpg
Roll3Neg20A.psd

Bottom Image Located On: Capturing Our Heritage, CDCG08
CG86cdCG08.tif
CG86cdCG08.jpg
CG86cdCG08.psd