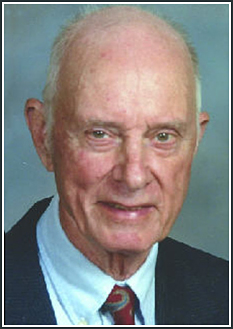 George Howard's Obituary, 05 March 2014
Courtesy of The Daily Progress, Charlottesville, VA
George Stark Howard passed away on Wednesday, March 5, 2014, with his wife, Thelma, by his side. He was born in 1922 at his family home at Red Brook Farm in Albemarle County, to the late Robert Roy Howard and Alice Louisa Barnes Howard. George was a 1940 graduate of Scottsville High School, serving as President of his senior class. He attended the Apprentice School of the Newport News Shipbuilding until he was called to duty to serve his Country in World War II, serving the Army in the 274th Infantry, 70th Division, and was awarded two Bronze Stars.
After his military service, George attended the University of Virginia and earned a BS in Mechanical Engineering in 1951, and was a member of Tau Beta Pi Honorary Engineering Society. Later he earned a Master of Mechanical Engineering from the University of Delaware. He married Thelma Sutphin in 1948, and they moved to Philadelphia, after his graduation. He worked his entire career at Westinghouse Electric, as a manager for over 38 years in the Gas and Small Steam Turbine Division. He was one of the world's experts in his field, and a dedicated member of and frequent lecturer for the American Society of Mechanical Engineers, lecturing all over the world.
Following his retirement from Westinghouse, George continued to consult and testify as an expert witness in turbine engines until his complete retirement just a few years ago. He was an active and devoted member of St Anne's Parish, Christ Church Glendower, where he served as both Junior and Senior Warden. He leaves behind a legacy as a role model for his children and grandchildren as a faithful servant, husband, father, and grandfather. He served on the Board of the Theodore Roosevelt Foundation, Pine Knot; Tri-County Riding Club, and was a member of the Boxwood Garden Club. He also had the privilege to serve on the 911 Road's Committee where he helped to name many of the roads in the Carter's Bridge area because of his extensive knowledge of southern Albemarle County and its history.
George is survived by his wife of 65 years, Thelma S. Howard; and their three children, George S. Howard, Jr., and his fiancee, Kimberly Stewart, Robert R. Howard III and Susan Howard-Smith and her husband, Richard. He is also survived by several grandchildren and their spouses, John Howard-Smith and his wife, Tonje Romstad, Ginny Peeples, and her husband, Anderson, James Howard-Smith, Alexandra Howard, Adam Howard, and Charles Beckwith; one sister, Grace Howard Halberstadt; and several nieces, nephews and many cousins. The family would like to thank the many caregivers who lovingly cared for George in his last several months. A service celebrating his life will be held at 11 a.m., Wednesday, March 12, 2014, at Christ Church, Glendower. Interment will be in the church cemetery with a reception to follow. In lieu of flowers, donations may be made to St. Anne's Episcopal Parish, P.O. Box 337, Scottsville, VA 24590; or a charity of your choice. Thacker Brothers Scottsville Funeral Home is handling the arrangements.