BEGIN THE EXCAVATION: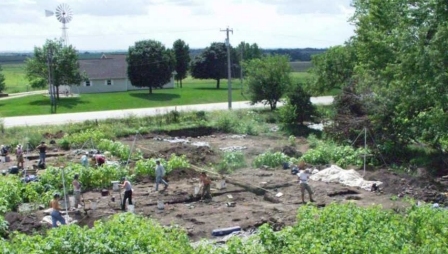 A picture from Bowen's Prairie. The place where the bottle came from.
So what you have in front of you is more than just a cup full of goodies. These layers each represent an important time in Scottsville's history where new artifacts can be found by digging through the layers. If you were digging in real dirt each layer would look very different, sometimes almost as different as the layers of candy you have, and the archaeologist would examine the change in color, content, and texture of the soil to determine if he were at a new period or layer of occupation.
Now put on your hard hat, get out your pick and shovel (or get your two toothpicks), and start digging. You have received a grant from the Historic Preservation Society to find out as much as you can about the time General Sheridan and his troops destroyed the town of Scottsville during the Civil War. Carefully dig out each layer, starting first with the gummy bears representing 1907-present day. Record what you find. Are you finding artifacts from the old stores that were replaced by new stores on Valley St.? Next, dig out each part of the layer of twizzlers representing 1880-1907. Are you finding any old nails or railroad ties from the first construction of the railroad in Scottsville?
Now you should come to the layer that you and the Historical Society are most interested in: the period of destruction caused by the Civil War. Carefully extract as much of the pieces of cookie you can without disturbing the layers beneath. Did some of your cookie pieces fall though your layer of M&Ms? This happens in real dirt all the time. Some of the layers above can get mixed in with the layers below and it is your job as the archaeologist to note when something is out of the ordinary. For example, in Ancient Greece the people would use old materials from ruined temples in the walls of the next building. So, you might find an ancient piece of marble from the temple of Zeus, used to build a wall that came 400 years later.
Now, either continue carefully digging apart the layers of your excavation, or cause some destruction of your own by eating it all! You've earned it! Great job young archaeologist!
____________
*NOTE: The Scottsville Museum does not endorse any of the above products. They are mentioned here for example only.
------------------------------
This activity was adapted from an Ancient History lesson created by Seth Pevnick, a former student of Classical Archaeology at Dartmouth College. Seth taught second grade with Teach for America and is currently working on a Ph.D. in Greek archaeology at UCLA.
How do we know? Oral History Archaeology Archives/Accessions Teacher/Parent