Hiding place:
Turn right on Moores Rd., which runs parallel to Hardware St. and is safer to walk up. Follow Moores up to Confederate St. Then walk up the Confederate St. path until you get to the end of the stone wall on your right and are about to reach the gate for the small cemetery in front of you. Hidden under the last few stones at the end of that stone wall is your first letterbox! Be sure to stamp your pad with its stamp and stamp its pad with your stamp.
Point Two:
(or starting point for those who skipped the Confederate Cemetery box)
Good work! One site explored, four more to go. Now, exit the cemetery and go back out onto Valley St. and head SOUTH down this busy Scottsville street. To figure out which direction you should turn to go South, take a look at the compass rose at the top right hand corner of your map. (The compass rose is the thing at the top right of your map which tells you which way the cardinal directions North, South, East, and West are in relation to the items on the map. For example, the compass rose tells you that the Confederate Cemetery is NORTH of the Scottsville Museum.) You want to turn left onto Moores Rd. again and go back South towards the town.
Disguise the intentions of your hunt by acting casually and doing a little window shopping along the way. Don't dawdle too long; you're on an historical mission! Your next point of business brings you to Victory Hall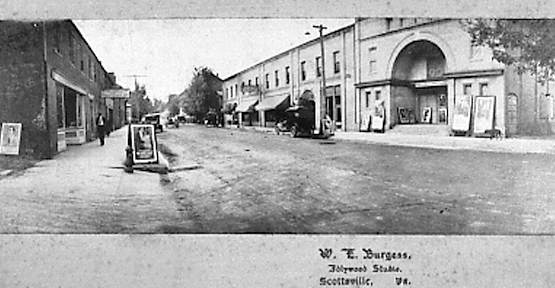 Historical Significance:
Victory Hall is Scottsville's current municipal (municipal is a fancy world that basically means government) building. It was originally designed by a local architect to commemorate the end of World War I. Victory Hall is also known as Victory Theatre because it originally held live performances and "Talking Pictures." (FUN FACT: Before the movies you know of today, there were silent films. When technologies advanced so that films could also have sound go along with them, they were originally called "Talking Pictures!")
Hiding place:
Once you reach Victory Hall going SOUTH on Valley St. take a left in the open area just after the building. Follow along the side of the building until you get to an area by the steps with a stone plaque. Take a look at the plaque and then look behind it. The Victory Hall Letterbox is behind and to the right of this plaque. Be sure to stamp your pad with its stamp and stamp its pad with your stamp. Then rehide it carefully.