Russell Clifford Van Allen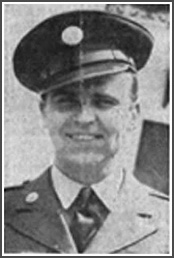 Name: Russell Clifford Van Allen
Branch of Service: U.S. Army Air Forces
Unit:
Rank: PFC
Dates of Service: 10/12/1942-
Area of Service:
Van Allen Brothers' WWII Story, 1943

OBITUARY

November 17, 2006

RUSSELL CLIFFORD VAN ALLEN


Russell Clifford Van Allen, 91, died November 17, 2006. He was a founding member of St. Barnabas Episcopal Church of Richmond and Manchester Volunteer Rescue Squad. He served 15 years with the Red Cross teaching first aid. He was accomplished amateur artist and was retired from the DuPont Spruance Plant as plant photographer with 43 years service. He was a graduate of Scottsville High School, Scottsville, VA, and was the son of the late Clifford Van Allen and Janie Fleming Van Allen Pugh. He is survived by his wife, Mollie Anderson Van Allen of 68 years and sons, Keith Anderson Van Allen and Russell Henwood Van Allen, daughter-in-law, Linda Thomas Van Allen, granddaughter, Melody Van Allen Watts and great grandson, Justin Daniel Watts. He was preceded in death by his brothers Alfred, Harold, Roland, and Kenneth. A graveside service will be held on Saturday, November 25, 2006, at 11 am at Dale Memorial Park, 10201 Newbys Bridge Rd., Chesterfield, VA. In lieu of flowers, contributions to St. Barnabas Episcopal Church, 5155 Iron Bridge Rd., Richmond, VA 23234 are welcomed.