Haden B. Anderson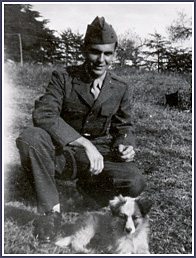 Name: Haden B. Anderson
Branch of Service: U.S. Marine Corps
Unit: Aircraft Engineering Squadron 44,
MCAS, Cherry Pt., NC
Rank: Corporal
Dates of Service:4/22/1944-6/4/1946
Theater of Service:

OBITUARY

Daily Progress, Charlottesville, VA

September 20, 2012

HADEN BLEDSOE ANDERSON


Haden Bledsoe Anderson, 92, of Scottsville, was taken in his sleep by his Lord Jesus Christ on Wednesday morning, September 19, 2012, at The Laurels of Charlottesville.

He was born on February 20, 1920, in Scottsville, a son of the late Wiley Young and Irene (Haden) Anderson. In addition to his parents, he was preceded in death by his wife, Hazel Howard Anderson; a son, Howard Haden Anderson; a sister, Sara Eloise Roberts; three brothers, Benjamin Douglas Anderson, Orville McLeod Anderson and Everette Wiley Anderson. Mr. Anderson served in the United States Marine Corps during World War II. He was an active member of Scottsville Baptist Church, having served as Deacon, Trustee, and for 27 years as Treasurer; and was a member of the Scottsville Masonic Lodge #45 A.F. & A.M. He was previously co-owner of W.F. Paulett and Son Hardware in Scottsville until his retirement in 1985. Haden enjoyed traveling and had visited most of the State and National Parks and had been to Canada, Mexico, South America, and Africa. He served on several mission trips to Tanzania, East Africa. Survivors include his daughter-in-law, Joan Newton Anderson of Scottsville; a brother, Robert Anderson; and his wife, Edna, of Scottsville; two grandchildren, Melissa Haden Anderson Morgan and her husband, Danny, of Staunton and Melanie Anderson Cogar and her husband, Douglas, of Greenville; and two great-grandsons, Dustin Harris and Davis Cogar. A funeral service will be conducted 3 p.m. Saturday, September 22, 2012, at Thacker Brothers Scottsville Funeral Home by the Reverend James Jetton and the Reverend Robert Spencer. Burial will follow at Scottsville Cemetery. The family will receive friends from 6 until 7 p.m. Friday, September 21, 2012, at the funeral home. In lieu of flowers, memorial contributions may be sent to the Scottsville Rescue Squad, P.O. Box 550, Scottsville, VA 24590; or to the charity of your choice. Family and friends may share memories and photos at www.thackerbrothers.com.